Remy di Gregorio: French cyclist tests positive for EPO
Last updated on .From the section Cycling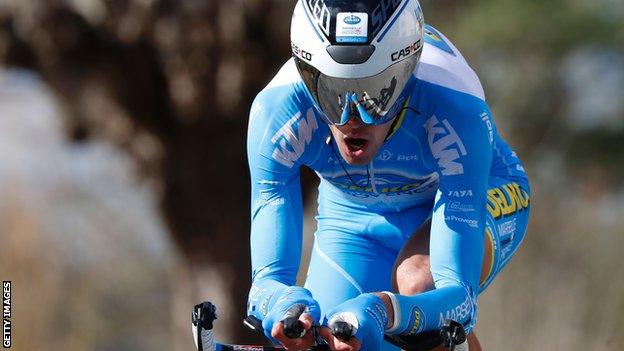 French cyclist Remy di Gregorio has been provisionally suspended after testing positive for a form of banned blood-boosting hormone EPO.
The 32-year-old returned a positive test for darbepoetin (depo) on 8 March during stage race Paris-Nice.
Cycling's world governing body the UCI said it was an "intelligence-led doping control" planned and carried out by the Cycling Anti-Doping Foundation (CADF).
Di Gregorio has the right to request and attend his B sample analysis.
The Frenchman has also been suspended by his team Delko-Marseille Provence KTM, who he joined in 2014.
"I am appalled and would feel deeply betrayed if the B sample analysis confirms the finding," said team manager Frederic Rostaing.
"I am angry and sad, but this is not all - this fundamentally calls into question the investment in our project that started 20 years ago, with ethical values at its core."
The Delko-Marseille Provence KTM rider was suspended and withdrawn from the 2012 Tour de France by former team Cofidis over doping allegations during the race.
He was sacked by Cofidis but partially cleared by the Court of Appeal in France and successfully sued his former team for wrongful dismissal in 2013.
Erythropoietin, or EPO, is a hormone which can increase endurance. It is injected under the skin and stimulates red blood cell production, which speeds up the delivery of oxygen to muscles.
It is one of several banned substances American cyclist Lance Armstrong admitted to using to win his seven Tour titles, which he was later stripped of.