Tour of Flanders: Team Sky rider Luke Rowe ready for Belgium race after leg break
Last updated on .From the section Cycling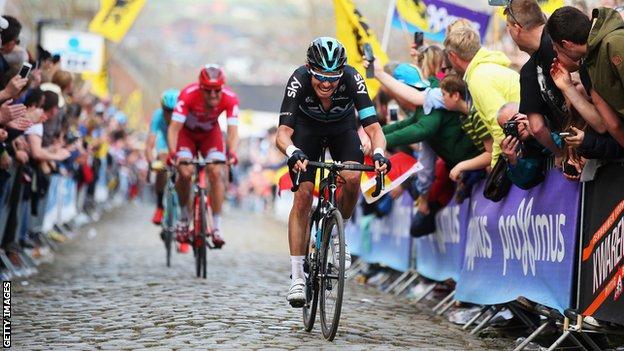 Team Sky's Luke Rowe says it is a "dream come true" to start the Tour of Flanders on Sunday, seven months after breaking his leg.
The Welsh rider was expected to miss at least a year but returned to racing at the Abu Dhabi Tour in February.
"I feel like I've come full circle, it's a dream come true just to be on the start line at Flanders," he said.
"It's been a pretty grim six or seven months. It's taken a lot of hard work and I've been surrounded by a great group of people to get me back to where I am now."
Rowe, 28, finished 22nd in the Dwars door Vlaanderen semi-classic on Wednesday in preparation for the Tour of Flanders, one of the five most prestigious one-day races in cycling, known as 'the monuments'.
Speaking to BBC Radio 5 live's Bespoke podcast, he added it would be "the stuff dreams are made of" to win the cobbled 267km race in Belgium, having finished fifth in the 2016 edition.
"Winning Flanders or another monument - that's what gets me out on the bike on the grim mornings," he said.
"There are five to 10 guys who are perhaps a level above me and it's going to be hard to react to them, so potentially I have to race differently to previous years by trying to survive with these guys and waiting for the final.
"My form is good, I rode an aggressive race at Dwars so although 22nd is an underwhelming result, it's a hard race and that's given me a bit of confidence.
"I won't go down without a fight and I'm surrounded by a great team."
Former world champion Michal Kwiatkowski will lead Team Sky as he seeks his second monument win, following his 2017 Milan-San Remo victory, and a first Flanders title for the British outfit.
Briton Ian Stannard is also in Team Sky's line up, alongside Michal Golas, Christian Knees, Gianni Moscon and Dylan van Baarle.
The Tour of Flanders is the second monument of the cycling calendar, following Milan San-Remo, which was won by Vincenzo Nibali earlier this month.
Paris-Roubaix will take place on 8 April, with Liege-Bastogne-Liege on 22 April, before Il Lombardia, the last monument of the season, on 13 October.
'A difficult time for Team Sky'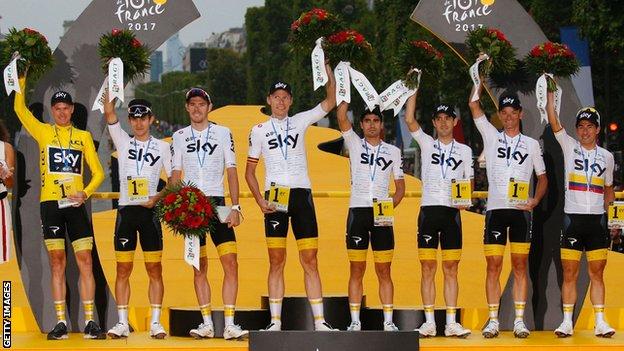 Rowe added it has been a "difficult time" for the team following a report by MPs that said Team Sky had "crossed an ethical line" in using drugs to enhance performance instead of just for medical need.
Four-time Tour de France champion Chris Froome has to explain to the UCI - cycling's world governing body - how he returned double the allowed level of legal asthma drug salbutamol in his urine during his Vuelta a Espana victory in September.
Froome, who is targeting the Giro d'Italia in May, is permitted to race while he presents his case, but UCI president David Lappartient said it would be a "disaster for the image of cycling" if the Briton rode the Tour de France in July with the case still unresolved.
"There has been a lot of negative press but it also makes you realise there is a lot of positive press out there as well and a lot of support from the fans and that really helps as well," said Rowe.
"I know Chris is trying to get it resolved as soon as possible and the sooner it gets resolved the better. It shouldn't be long now, hopefully.
"I've got to carry on my training and my racing and just be the best I can for these races."
'I didn't know if I'd get back'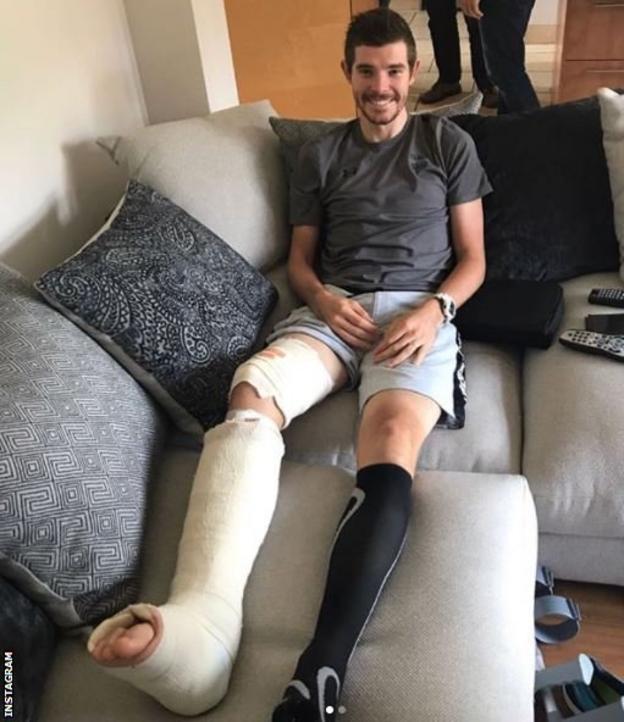 Rowe suffered 25 different fractures to his right leg after jumping into a shallow section of water while rafting.
He had a metal rod inserted during surgery and doctors initially advised him he was facing a lengthy absence, with a chance he would never race again.
"The year out they estimated was the best-case scenario so I'm in a fortunate position where I was able to get the best care and that's gone a long way to getting back so soon," he said.
"I didn't know how I would react to the racing and if could return to the level I was previously at.
"But after the Abu Dhabi Tour I said I wanted to focus on the classics and the team supported that.
"I'm 95-98% of where I was in previous years so I'm possibly missing the top end but, at the same time, I'm fresh and raring to go so that could play in my favour as well."
You can hear more from Luke Rowe on the Bespoke Weekly podcast, available to download here.