Shane Perkins: Australian cyclist on switching to Russia and 2020 Tokyo Olympics
Last updated on .From the section Cycling35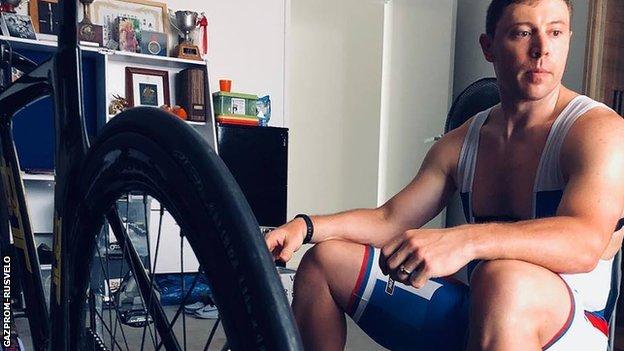 An Australian going for Olympic gold with Russia. It might seem improbable to outsiders, but for cyclist Shane Perkins this is "living the dream".
Jettisoned by his home team, he has gone elsewhere in an effort to compete at the 2020 Tokyo Olympics.
With his Russian passport and citizenship personally signed off last year by the country's president, Vladimir Putin, Perkins has backing from the top.
"My heart is big enough for two countries," said the 31-year-old former keirin and team sprint world champion.
His switch to Russia comes as the country looks to recover after a doping scandal that saw their track-and-field athletes banned from the 2016 Olympics.
But despite having no family ties to Russia, Perkins has embraced the nation, is sceptical about claims of previous state-sponsored doping, and is keen to seize an opportunity to extend his career.
"I'm always going to be a proud Australian and now I'm going to be a proud Russian too. I don't see what's wrong with that," he said.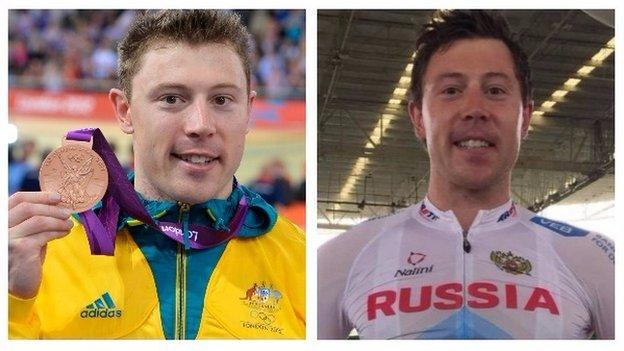 'I've found a different way'
So what of those who question the whole business of being able to represent two nations?
Perkins mentions the Olympic spirit, and the fact clean Russian athletes were allowed to compete under a neutral flag at last month's Winter Olympics.
"It doesn't matter which country you're from, it's bringing people together that love what they do, and bringing that competitiveness to one place. It gives people the opportunity to shine in front of the world," he said.
"I'm living a dream that I want to go to the Olympics in Tokyo. The fact I get to do it wearing Russian colours, I'm very proud of that. One country wouldn't allow me to do it and I've found another way.
"Just because you're wearing a certain colour on your jersey shouldn't change who's under it. Too many people look at the cover of a book rather than reading it."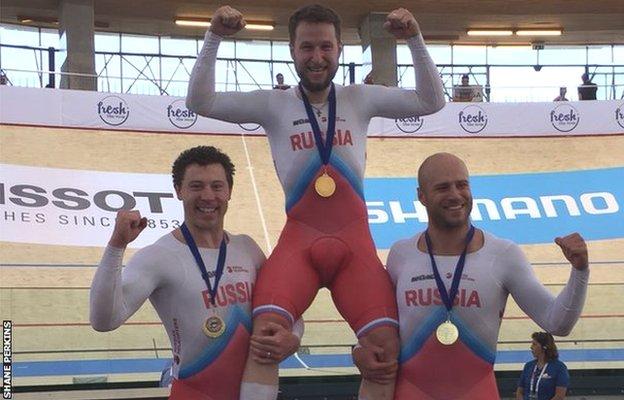 'Russia feels like another home'
While there are regular trips to Russia, he remains based in Australia, with his wife Kristine and children Aidan, nine, and seven-year-old Mischa.
"We discussed moving to Moscow but think it's better for now to base ourselves out of Brisbane and I come into Russia for training camps. I can continue my training in a hot environment," he said.
"I'm quite excited when I get the opportunity to go over to Russia. It's always a funny feeling - when I land it feels like another home to me.
"I've set myself a goal to start learning the language. It would be good to do an interview in Russian one day, but I'm progressing very slowly."
He talks of coaching there in the future and even doing something in politics which involves the two countries.
Despite the doping claims, Perkins is confident he will not be sullied.
"I don't believe it was necessarily state-sponsored doping," he said. "I think there was some athletes and coaches who made some really stupid decisions and they believed the way to win was to cheat. Those athletes have been punished.
"I'm an athlete and I'm the one who gets to make decisions on where my integrity lies. I believe in fair sport."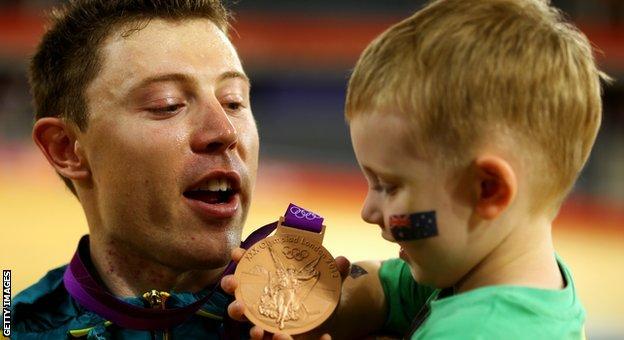 His attitude towards his homeland has not been changed by the cricket ball-tampering scandal which has made headlines in Australia and around the world.
"It hasn't altered my perception on Australia at all. You would be downright stupid if you thought something like this couldn't happen anywhere," said Perkins.
"No-one is immune. People are human and make mistakes, no matter what country you are from. Sometimes as humans we make silly decisions or can be led down the wrong path.
"When I was riding for Australia it was a great honour to put on the green and gold jersey wherever I raced."
How did the switch come about?
After winning an individual sprint bronze medal for Australia at the 2012 London Olympics, he was not picked for the Rio Games four years later.
"I was mentoring younger riders and funnily enough a couple of those took my place for Rio," recalled Perkins.
"It was a difficult time and had me wondering 'what have I done to deserve this?'"
Perkins won the keirin event, beating Britain's Chris Hoy, at the 2011 World Championships. He was also part of the Australian team that won the team sprint a year later.
But as he considered quitting, an old cycling friend - Russian Denis Dmitriev, with whom he had ridden in the keirin in Japan - came up with the radical alternative of representing Russia.
"He talked me out of retiring. I still have the passion and fire to keep fighting for another Olympics," he said.
"We got in touch with the Russian Cycling Federation. They were questioning as to why, but were aware of my history and results in the sport and knew there was something I could offer to their riders coming through."
With the support of the federation and coach Vladimir Khozov, they began the process of seeking citizenship and months of meetings and paperwork followed.

'It would be super cool to meet Putin'
In August 2017, the switch was completed thanks to a presidential decree from Putin.
"I'm very lucky that Russia holds sport in such high regard, especially the Olympics. It's a massive thing for them," said Perkins.
"The fact they had someone who wanted to become Russian and fly the flag towards Tokyo - we had a common goal. They also needed someone for the keirin event and the sprint to make a strong team."
Perkins won two titles at the Russian Championships last year and then a silver medal in the keirin at the European Track Championships in October.
"They wanted to make sure there was something left in me. Results have definitely spoken for themselves," he said.

Putin was recently re-elected by a landslide, with some European observers saying there was a lack of genuine choice in the poll.
The poisoning of former Russian spy Sergei Skripal and his daughter Yulia in Britain has also sparked growing western tensions with Moscow.
But Perkins sees another side to the story, and would welcome a meeting with the president.
"All the stuff in the media about Putin being re-elected, it makes my blood boil a bit, so you could say I'm a passionate Russian as well," he said.
"I'm obviously grateful that he was supportive of me coming on board. One day it would be super cool to meet him and thank him in person, and shake his hand. It'd be awesome."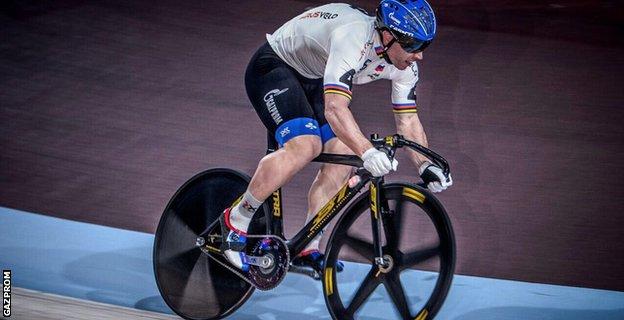 What's the reaction been?
While several Russian athletes, such as 2000 Olympic pole vault silver medallist Tatiana Grigorieva, have left their motherland and taken up Australian citizenship, a move in the other direction is a rarity.
"The reception, even in Australia, has been actually very positive and quite overwhelming," said Perkins, who has joined the Russian team Gazprom-Rusvelo.
"People in Australia know my story. I didn't want to retire and I had this opportunity to continue my career. At the end of the day, we've only got one life - I'm just trying to race my bike, enjoy what I'm doing and hopefully inspire a few people.
"People in Russia are very appreciative that despite the things that have gone on with sport, and questions being asked, I think for myself and I'm not just reading media articles.
"Russia is a beautiful country and the people are nice. It is a chance to see another part of the world, and learn their culture.
"If I go to Tokyo and we win a gold medal, that's obviously going to be a big one for Russia but it's also going to be big for Australia."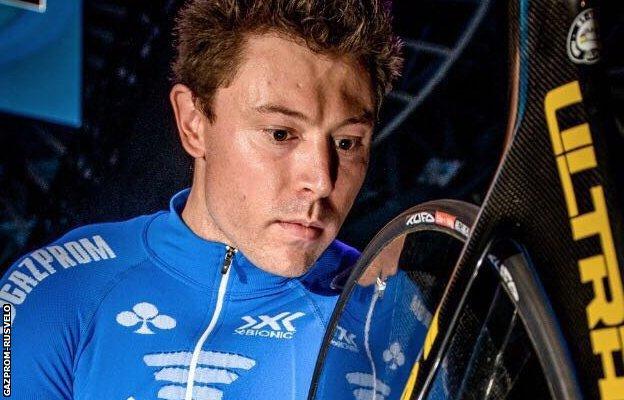 Missing the Commonwealths
Having won medals at three Commonwealth Games, Perkins - with his focus now on Russia - will miss the 2018 event when it is staged on Australia's Gold Coast next month.
"Of course I'll want to be out there. I rode for Australia for 13 years and I'm a Commonwealth Games gold medallist," said Perkins, who won individual sprint gold in 2010, along with team sprint bronzes in 2006 and 2014.
"It's in Queensland, the state I live in. It's 10 minutes from my house, where it's being held.
"I'll try to grab some tickets and see who comes out on top. I'll cheer on the Aussies and I have some mates from New Zealand, Scotland and England.
"I'm going to watch it with keen eyes but I've got no regrets about the decisions I've made to chase my Olympic dream."
Following in father's footsteps
After shrugging off a persistent back injury, Perkins is looking forward to the European Cycling Championships in Glasgow in August.
He hopes to pick up Olympic qualifying points from World Cup races and compete in the Track World Championships in Poland next year.
The ultimate aim is to make the Olympic keirin and team sprint events in Tokyo, and follow his father Daryl who took part in the Olympics there in 1964.
"Honestly I doubt my father cares who I'm representing. It's just the fact I've got the opportunity to keep doing what I love. He's proud that I haven't given up," he said.
And if he needed any extra motivation, 74-year-old Daryl is recovering after being seriously ill with meningitis earlier this year.
"I know how proud he's going to be when I do turn up in Tokyo. It will be awesome to have him there supporting me. It's for him, but I've got to do it for myself too," said Perkins.