Gold Coast 2018: Jersey cyclist Kim Ashton to retire after Commonwealth Games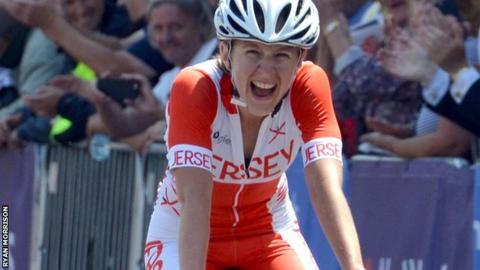 Kim Ashton, one of Jersey's most successful sportswomen, will retire from cycling following the Gold Coast Commonwealth Games.
The 30-year-old, who won six gold medals at the 2015 Island Games, is one of two women representing Jersey in cycling in Australia next month.
Ashton also competed for Jersey in badminton at the 2010 Games in Delhi.
"I think this will be it for me, hit Gold Coast as hard as I can go and then call it a day," she told BBC Jersey.
Ashton first took up cycling as a way to recover from injuries she had suffered during her badminton career.
"I realised I wasn't too bad at it and for my mentality it really pushed me and I thought I'd give it a go," she said.
"When they announced Gold Coast, it would be silly not to try it and here I am now."
Ashton won Island Games gold in the women's road race in 2011, as well as two team gold medals and has not looked back since.
A silver and bronze medal followed in 2013 before her remarkable golden clean sweep three years ago on home soil.
But the self-coached rider, who balances her day job as a civil servant for the island's Social Security department with training, is realistic about her prospects of a medal next month.
"We all want to win medals, but coming from such a small island, just going to the Games is a major achievement," she added.
"It's about going out there and embracing the opportunity that we're given living in Jersey.
"If most of us lived in the UK, would we get to go? Probably not, so I don't think medals play on people's minds, although I am still training to try and win a medal."