What can Chris Froome do to try to avoid a ban?
Last updated on .From the section Cycling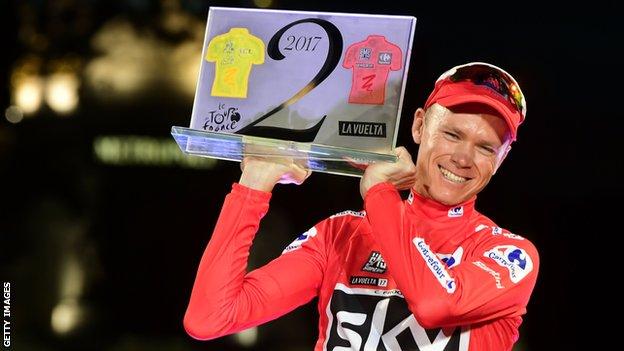 Chris Froome is facing a long and complex process to clear his name and avoid a ban.
The burden of proof is on the four-time Tour de France champion to show how he produced the "adverse" urine test without taking more than the legal dose of asthma drug salbutamol.
We've read the paperwork, scanned the precedents and spoken to the experts - so you don't have to.
What are Froome's options? Voluntary suspension? Laboratory tests? Making use of a change to the rules?
This is where things get complicated, but bear with us - here's how it might unfold.
Firstly, Froome's response so far
Froome gave his urine sample on 7 September at the Vuelta a Espana - and his salbutamol was 2,000 nanograms per millilitre, double the allowed level. He was told of the findings on 20 September.
He said his asthma got worse during the race and the team doctor advised him to increase his dosage - still within permissible limits.
Some people "naturally" produce higher urinary levels of salbutamol despite inhaling the same amount, according to the World Anti-Doping Authority (Wada). Food, other medications and dehydration, among other factors, can have an effect too.
Yet, in 10 years of professional racing, Froome had never gone over the permitted level before.
So he and Team Sky will have started working with lawyers and scientists to gather the likely following information for cycling's world governing body, the UCI:
Details of how much salbutamol he took and when.

What food he had eaten and any other medications taken.

Evidence from studies into the drug, such as how different factors can affect test results.
What about lab tests?
Another option Froome may explore is trying to replicate his adverse finding in a laboratory.
Although Wada says these are "extremely rare", its regulations allow for an athlete to take part in a test - called a pharmacokinetic study - to see if it is possible to return an illegal limit from a legal dose.
Pharmacokinetics is about the way drugs work their way through the body. The study is a controlled test of how that happens.
Beforehand, Froome stops taking the medication so his system is 'clean'.

Base level blood and urine samples are taken.

Under strict independent supervision, he would take the same amount of salbutamol as he declared at the Vuelta.

Urine samples are collected at least every two hours before being taken to a Wada-accredited laboratory for analysis.
Return the same "adverse" result and Froome's case is very strong.
But a lab is very different to 18 stages into a Grand Tour.
Wada says physical activity during the test is "not mandatory" but "could be considered if needed". Even then, how can Froome hope to replicate his level of fatigue or the intensity of a race?
And what about food intake? How hydrated he was? Even the severity of his asthma at the time? All these are potentially key factors.
"If Froome builds his case around the pharmacokinetic study and it doesn't replicate the result from the sample he gave during the Vuelta, then it's not looking particularly positive," says Dr John Dickinson, an exercise-induced asthma expert at Kent University.
Another way? The dehydration factor
Both Froome and Team Sky have mentioned dehydration as a potential factor.
Being dehydrated can increase the concentration of a drug in the system. And that could be the reason for Froome's test result, says Dr Tom Bassindale, an anti-doping scientist at Sheffield Hallam University.
In the past, Wada has not adjusted the salbutamol threshold in test results to account for "high urine density", which can increase when you are dehydrated.
But that is changing from 1 March 2018, and a Wada spokesperson told BBC Sport that for any case currently being adjudicated, "the most beneficial rule to the athlete would apply".
So if Froome qualified for this adjustment, a correction equation would bring his 2,000ng/ml reading down.
It might still not be nearly enough to come down under the threshold - an athlete would likely need to be severely dehydrated for the equation to have such a drastic effect as halving a result.
But it could bring the result down to a level that is easier for Froome to argue his case.
Should Froome have suspended himself?
There is no mandatory ban or an obligation for Team Sky to suspend Froome in this type of case.
But he could have opted for an immediate voluntary suspension when he found out about the "adverse" finding.
Why? Because if a ban is eventually imposed, this credit could have seen the ban backdated to September, allowing him to return to racing earlier.
Without this, he risks a suspension starting on the date of the final decision, which brings more uncertainty. Wada says such cases can "take up to several weeks or months, especially if there are appeals".
Despite knowing of the adverse test, Froome announced his intention to ride the Giro d'Italia in May 2018. Race organiser RCS was unaware of the case, suggesting Froome and Team Sky were confident of dealing with it in private before the news was leaked.
In theory then, Froome could race - and win - the Giro and the Tour de France in July, while still waiting for the case to be resolved and the sport unsure whether he will keep all his results. Any ban will see him stripped of his 2017 Vuelta title.
For Froome to race a Grand Tour with this case still unresolved has some echoes of Alberto Contador, who won the 2011 Giro while his hearing on a more serious doping charge was postponed.
Contador was stripped of the Giro title - and the 2010 Tour de France - the following year when he was finally given a two-year backdated ban by the Court of Arbitration for Sport (Cas).
Can Froome draw on any precedents?
Froome may not find much comfort in similar salbutamol cases from recent years.
Italian rider

Alessandro Petacchi

initially avoided a ban in 2007, but the Italian Olympic Committee (CONI) appealed, and the Court of Arbitration for Sport gave him a 12-month suspension. Cas said his adverse test was down to "simply and, possibly, accidentally" taking too much salbutamol, and perhaps because of a poor inhaling technique. Yet still he was banned.

Fellow Italian

Diego Ulissi

returned an adverse reading at the 2014 Giro and had tests in Switzerland to try and replicate the result. He could not and was given a backdated nine-month ban.

Another Italian,

Leonardo Piepoli,

avoided a ban for returning a test above the permitted level in 2007.
Why the discrepancies?
All three riders held racing licences in different countries, so the decision was in the hands of the respective national federations.
But since the UCI established an anti-doping tribunal in January 2015, disciplinary decisions for international-level riders are now in its hands.
Whatever and whenever the outcome, this will have been a stern and unprecedented test for all involved.