Dan Halksworth: Jersey sportsman aims for third sport at third Commonwealth Games
By Brent Pilnick
BBC Sport
Last updated on .From the section Cycling
"My old coach used to say I was a Jack of all trades and master of none and I think I've carried it on through my life."
Dan Halksworth is an athlete you have probably never heard of, but come April next year the 31-year-old from Jersey will be aiming to be a history-maker.
Halksworth will be cycling in the time-trial and road race at the 2018 Commonwealth Games in Gold Coast, having previously competed as a swimmer in 2006 in Melbourne and a triathlete in Glasgow in 2014.
If he makes the start line, he will be the first person ever to have competed in three different sports at three different Commonwealth Games.
"I decided to give cycling a go because I'd got a bit older, got a mortgage and don't have the time to do all three sports [in the triathlon] any more," he told BBC Sport.
"I thought I'd still try and enjoy sport and just try and focus on one.
"Initially it wasn't my aim to get to the Commonwealth Games, I was just trying to get back into sport really."
'I needed a target'
Halksworth has always been a star sportsman on Jersey - he was the island's first Commonwealth Youth Games gold medallist in 2004 when he won swimming gold in the 400m individual medley and silver in the 200m individual medley.
He then swam both medleys at Melbourne 2006, but failed to get out of the heats. Having not reached the heights in the pool he had aimed for, he knew it was time for a change.
Having done a triathlon the previous summer, he turned his back on swimming and focused on the three-discipline event with great success.
He turned professional over the gruelling Ironman distance - a 2.4-mile swim, 112-mile bike ride topped off with a marathon.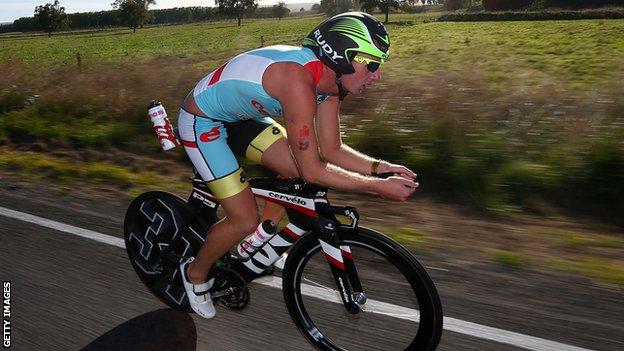 He went on to represent his home nation in the Glasgow 2014 triathlon, where he eventually finished 17th, despite being third behind double Olympic medallists Alistair and Jonathan Brownlee after the swim and cycle stages.
He has twice doubled-up at an Island Games - winning triathlon gold in 2015 and 2017, while racing in the 10,000m on the track two years ago and taking time trial bronze this summer.
"I took a bit of a break after the Island Games in 2015 and I needed a bit of a kick, and in the end I said 'I need a target to set myself' and that target was to get myself to the Commonwealth Games.
"At the start of the year I was quite far away from getting the selection criteria, but I started working with my coach Matt Botterill and he believed I could do it, and when you've got someone behind you and they believe you can do it, it pushes you a bit more.
"Luckily enough in my last qualifying race of the year I managed to get there."
Record breaker
Since the start of the Commonwealth Games in 1930 - then the British Empire Games - a number of sportspeople have competed at two different sports.
Some, like Halksworth, have done triathlon combined with one of the event's individual disciplines - cycling, swimming or running.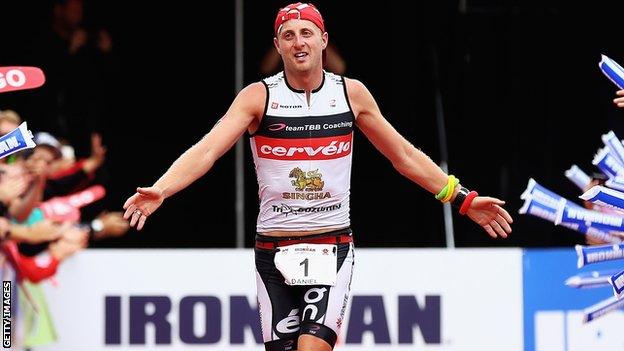 Others have competed at sports with similar skill sets, such as weightlifting and shot put, or 100m and rugby sevens, but nobody has ever done three.
The closest came in Delhi 2010 when Ghanaian Christopher Symonds was due to compete in the 50m and 100m freestyle swimming, as well as the cycling time trial, having previously finished 26th in the triathlon at Melbourne in 2006.
But he did not start either of his swimming events, so while he has been selected for three sports he has not participated in all of them.
Halksworth's last Commonwealth Games?
So, is this really the final act for Halksworth when it comes to Jersey and the Commonwealth Games?
Could the 'Jack of all trades', who is also a keen skier, not turn to a sport which required less aerobic dedication, such as shooting, bowls or archery in a future Games?
"I'm going to enjoy a glass of wine without feeling guilty and eat what I want for a while," he joked.
Halksworth's Island Games medals
Triathlon: Two men's individual gold medals, one individual silver and three men's team golds
Cycling: Men's time trial bronze and men's team trial gold
Swimming: Eight gold, five silver, three bronze medals
Athletics: Bronze in the 10,000m in 2009
"I don't know what's going to happen, sometimes I have these silly ideas in my head and I go all guns blazing into it.
"I'm always going to keep fit, at the moment I just don't want to be racing after the Commonwealth Games.
"I want to enjoy sport and I also want to do some challenges. I haven't really thought of what to do yet, but something that's going to challenge me.
"I also want to try and get a bit more skiing in as well, I've missed out on that in the last couple of years."
Just as well there is not a winter Commonwealth Games - or else Halksworth might well be in the slalom or downhill representing Jersey too.