Luke Rowe: Cyclist returns but knows another injury could end his career
Last updated on .From the section Cycling
Welsh cyclist Luke Rowe is back in training four months after a career-threatening injury.
The Team Sky rider is targeting a return to racing in 2018 despite the risk that a repeat of the injury could leave him having to learn to walk.
"If that tibia was to break again, I'd never ride a bike again," he said.
Rowe, part of the team that helped Chris Froome win the Tour de France for a fourth time in 2017, suffered 25 separate fractures in his lower right leg and has a rod inserted inside his shinbone.
He has been advised the rod is likely to be left in permanently but has also been told the damage would be much more severe if he was to break the leg again, possibly even threatening his ability to walk.
"With leaving the rod in if I was to crash again and break my leg - break the tibia - essentially if the rod was to bend then the bone around it would shatter," he added.
"If it happens it's game over - 100%. You never know, but if it happened that tibia would be a hell of a mess so bike riding would be a no.
"Walking? I would probably walk again but it would take years of rehab."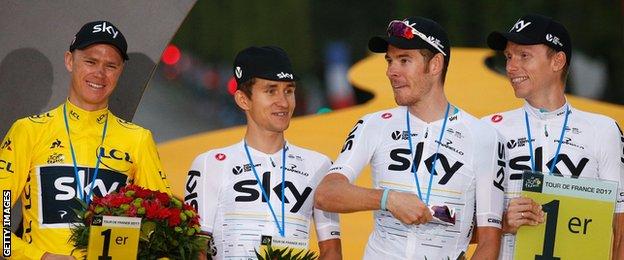 Racing again 'a scary thought'
In spite of the risks, Rowe is determined to be back in action in 2018 - possibly as early as April, though he is reluctant to put an exact timetable on his comeback.
"It's quite scary thinking I'll be racing... battling for position in the peloton going down hairy descents at 50-60-70kph. It is a scary thought," he added.
"But I haven't really thought about it. As soon as you think about that and think about the dangers you might as well retire, because you've got no chance so it is what it is.
"I've got to put it to the back of your mind and race like I've always raced.
"You know you race the Classics, you race the Tour and these massive races which of course bring danger.
"But, like I say, put it to the back of my mind, crack on. Got a job to do, go racing and hopefully stay on my bike."
Time for a return?
Rowe says early concerns the injury would end his career frightened him.
He was also alarmed by the muscle loss after his leg came out of plaster, saying he had "one chicken leg and one normal leg".
But Rowe is now confident he will be back racing in the next 12 months.
"We're at the stage where I have ridden the bike, the odds are on my side that I will return 100% to where I was before - it's not guaranteed yet but it's looking that way," he said.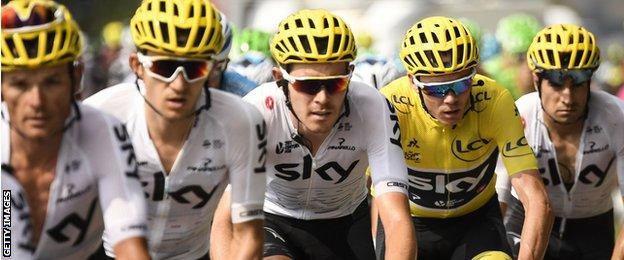 However, a timescale is difficult to pin down, with Rowe suggesting April 2018 is the earliest he is likely to be back in action.
"It's hard to put a date on it. Each person heals and the body works in a different way. There's a very vague date - but the Classics are out out of the equation.
"I'm not going to be 100% by April."
Rowe does not rule out representing Wales at the Commonwealth Games - again in April - having been in the team in Delhi 2010 and Glasgow 2014 when his compatriot Geraint Thomas won the Road Race and he finished fifth.
But any decision on a return would have to be taken in conjunction with Team Sky.
"We have spoken about it [Commonwealth Games]; it's definitely a possibility," he said.
"I'd have to speak to the team and look at the race programme and see what's best for me and the team.
"The Commonwealth Games is a one day race and I'm going to be short of miles in the legs, so it's whether you go to Australia and race 200k or stay in Europe and race a seven day stage race and bank 1000k or 1200k.
"I'd love love to be at Commonwealth Games. I race for GB, I race for Team Sky, but the jersey I genuinely most like to pull on is the Welsh jersey because it's something I do every four years.
"But I'm not setting a date because you set yourself up to fail. I've said from day one I want to be back as soon as possible and that's still the case whenever that is, whatever race that is, wherever in the world it is, I'll take it."