Peter Sagan ends dispute with UCI over Tour de France disqualification
Last updated on .From the section Cycling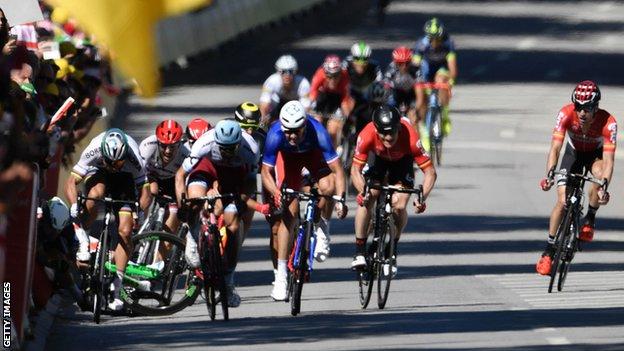 Peter Sagan has ended his dispute with cycling's world governing body over his 2017 Tour de France disqualification.
The Slovak was deemed to have caused the crash which caused the injured Mark Cavendish to withdraw from the race.
The case was scheduled to be heard by the Court of Arbitration for Sport (Cas) on 5 December.
But the matter will be closed after UCI said "the parties agreed that the crash was an unfortunate and unintentional race incident".
Cas had rejected an initial urgent appeal to have the Slovak reinstated and his team, Bora-Hansgrohe, said the jury did not listen to Sagan's argument.
The UCI said it had considered "video footage that was not available at the time" in making their latest judgement.
"As of next season the UCI intends to engage a 'Support Commissaire' to assist the Commissaires Panel with special video expertise on the main events of the UCI World Tour," said UCI president David Lappartient.
Sagan added: "The past is already forgotten. It's all about improving our sport in the future.
"I am happy that my case will lead to positive developments, because it is important for our sport to make fair and comprehensible decisions, even if emotions are sometimes heated up."
Cavendish said the 27-year-old elbowed him during the sprint finish on stage four in Vittel.
The 32-year-old Manxman crashed into the barriers and later pulled out of the race with a broken shoulder.
"I can accept the decision but for sure I do not agree with them, because I think I have done nothing wrong," Sagan said at the time.
The cyclist and his team insisted he did not see Cavendish as the Manxman tried to race up the inside by the barriers.
Sagan was initially docked 30 seconds before the race jury reviewed the footage and upgraded his punishment to disqualification, ending his bid to win the Tour's green jersey for the leader of the points classification for a record-equalling sixth straight year.