Sir Bradley Wiggins: No charges over 'mystery' package
Last updated on .From the section Cycling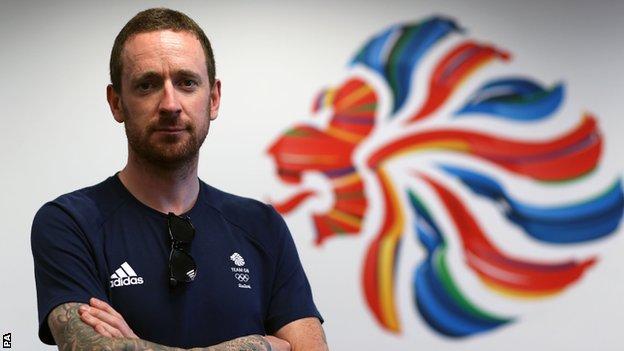 There will be no charges over a 'mystery' medical package delivered for Sir Bradley Wiggins at the Criterium du Dauphine in 2011, says UK Anti-Doping.
The ruling follows an investigation into allegations of wrongdoing at British Cycling and Team Sky.
It was alleged the package contained a banned substance but the doctor involved, Dr Richard Freeman, said it was a legal decongestant - fluimucil.
Ukad said it had been "unable" to prove the package contained Fluimucil.
However, the organisation has shared information from its investigations with the General Medical Council (GMC).
Five-time Olympic champion Wiggins won the Criterium du Dauphine stage race in France that year and went on to become the first Briton to win the Tour de France in 2012.
The 14-month investigation has been closed and a Ukad statement said it would only "revisit matters if new and material information were to come to light".
A statement on the organisation's website added: "Put simply, due to the lack of contemporaneous evidence, Ukad has been unable to definitively confirm the contents of the package.
"The significant likelihood is that it is now impossible to do so."
Ukad chief executive Nicole Sapstead said the investigation was hindered by the "lack of accurate medical records" held by British Cycling.
"This is a serious concern," she said. "As part of their conditions to receive public funding, all sports governing bodies must comply with the UK National Anti-Doping Policy.
"In this case the matter was further complicated by the cross over between personnel at British Cycling and Team Sky."
How did it get to this point?
Team Sky boss Sir Dave Brailsford was questioned by a Culture, Media and Sport Committee last December and said he had been told by then-team doctor Freeman that "it was Fluimucil for a nebuliser".
Freeman, who was simultaneously employed by British Cycling and Team Sky between 2009 and 2015, missed the hearing through ill health but the DCMS committee was told that in 2014 he had a laptop containing medical records stolen.
As part of the investigation, Ukad interviewed 37 individuals, including current and former British Cycling and Team Sky riders, medical professionals and other staff.
From that, Ukad have established that:
At some point during the race, a request was made by Dr Freeman for a package to be delivered to him.

Coach Shane Sutton arranged for British Cycling employee Simon Cope to pick up that package and to bring it over to France.

Cope said it was left for him on a desk at the British Cycling offices sealed in a Jiffy bag. There was a post-it note on the package that said "To Simon, for Dr Richard Freeman".

Cope travelled to Manchester to pick up that package, took a flight to Geneva, hired a car and took it to the end stage of the race on 12 June and passed the sealed Jiffy bag over to Dr Freeman.
When Ukad started its investigation into the 'mystery' package, Wiggins and Brailsford were already under scrutiny over the cyclist's use of a banned steroid before races was leaked by hackers Fancy Bears.
Wiggins had sought therapeutic use exemptions (TUEs) to use banned anti-inflammatory drug triamcinoclone for allergies and respiratory issues before the 2011 Tour de France, his 2012 Tour win and the 2013 Giro d'Italia.
Wiggins, British Cycling and Team Sky have always denied any wrongdoing.
The chairman of the DCMS committee - MP Damian Collins - said after December's hearing that the "credibility of Team Sky and British Cycling is in tatters".
Brailsford has previously admitted he handled the situation "badly" but has consistently defended Team Sky's stance against performance-enhancing drugs, stating that the British-based team can be "trusted "100%".
Freeman was off work from British Cycling with a stress-related illness before resigning earlier this year.
Analysis
BBC sports editor Dan Roan
With no clarity over what was in the now-infamous jiffy bag delivered to Team Sky in 2011, this represents a wholly unsatisfactory end to a saga that has tainted some of the biggest reputations in British sport, and exposed Ukad's lack of power.
But, while this case may not have resulted in any anti-doping charges, the lack of medical records, the inaccuracies in Team Sky's initial explanations for the mystery delivery, the unavailability of key witness Dr Richard Freeman to Ukad investigators, and the theft of his laptop, all means that suspicion will linger.
And at best, the attention to detail that was once the mantra of Team Sky and British Cycling has been exposed as hollow.
What they said
Team Sky: "We have always maintained that there was no wrongdoing and we have co-operated fully with UK Anti-Doping over the last year.
"Since our inception as a new pro cycling team in 2010 we have continually strengthened our systems and processes so they best support our strong commitment to anti-doping."
British Cycling chief executive Julie Harrington: "Ukad's findings represent an organisation and culture that, despite delivering on the world stage, did not meet the high standards that British Cycling today holds itself to.
"We accept that the relationship between British Cycling and Team Sky developed rapidly and as a result, at times, resulted in the blurring of the boundaries between the two. This led to some failings in the way that processes and people were managed.
"Today, based on our learning together, there are clear boundaries and distinctions between our two organisations: no one is simultaneously employed by British Cycling and Team Sky; and we each have our own practices in place for managing athlete records.
"We are intent on ensuring that the integrity of our record keeping is never called into question again."
GMC spokesperson: "Ukad have made us aware of these concerns and we are looking into these. However, we are not able to comment further on this matter."
DCMS select committee chair Damian Collins MP: "The evidence that the committee has received during its inquiry points to serious and worrying structural problems within sport, both in terms of anti-doping and governance.
"The committee will be publishing its report on doping in sport shortly. This will be followed by a second report focusing on sports governance in the New Year."