Luis Herrera: Ex-cyclist says sun exposure caused his skin cancer
Last updated on .From the section Cycling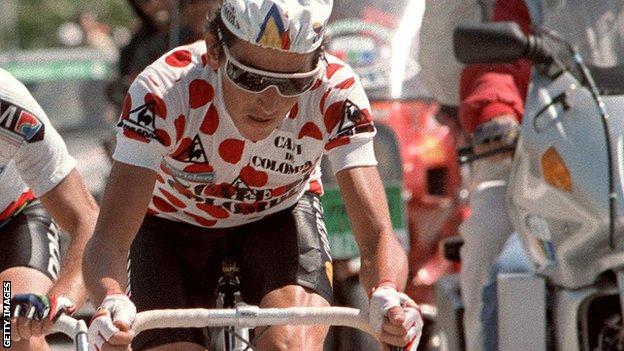 Luis Herrera, the first South American cyclist to win a Grand Tour, says he has skin cancer caused by his exposure to the sun during his career.
The 56-year-old Colombian won the Vuelta a Espana, one of the three major tours, in 1987.
He said cancer spots on his face, arms and hands were likely caused by the lack of precautions taken in the 1980s.
"I'm feeling good, I'm well, but I'm taking great care of my arms and my face," he told Colombia's Blu Radio.
"Maybe at the time we didn't take precautions to apply sunblock because there was no time. Sometimes we were sweating a lot," he added.
Herrera, who also held the King of the Mountains jerseys in the Vuelta, the Giro d'Italia and the Tour de France, is having treatment to prevent his condition worsening.