Isle of Man End2End 2017: Manx racer Nick Corlett 'thrilled' to win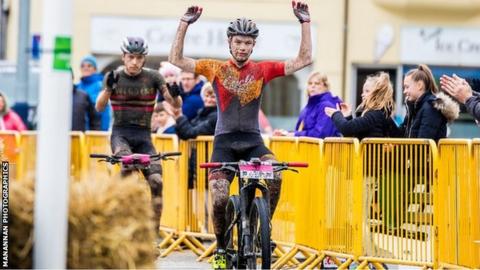 Nick Corlett won the Manx End2End Mountain Bike Challenge for the first time on Sunday in difficult wet and windy conditions.
The Manx racer produced a sprint finish at the end of the 46-mile (75km) course to edge out fellow local rider Nathan Draper by a single second.
Corlett, who finished second for the past two years, won in three hours, 13 minutes and 59 seconds.
The rider from Glen Vine said he was "thrilled" to win.
He said: "It feels great, but at the same time is a sense of relief almost to have finally won the race, that I have been trying to win for so long now.
"It's also what got me into mountain biking in the first place, I would go out every year with dad and help back up my uncle and watch it and be so excited to give it a try for myself.
"So to have actually gone on and won the race now is pretty special.
Alexander Rockwell finished a further four minutes 26 seconds down on Draper in third place.
Kirree Quayle from Baldrine was the leading female rider, 64th overall, in four hours, 14 minutes and six seconds.
She finished more than eight minutes ahead of Emma Atkinson, with Michelle Meakin completing the top three.
More than 700 competitors started the race, which runs from the Point of Ayre to Cregneash, with 438 completing the race which sees cyclists ride on a variety of terrain between the Point of Ayre to Port Erin.