End to End 2017: 700 mountain bikers take on Manx challenge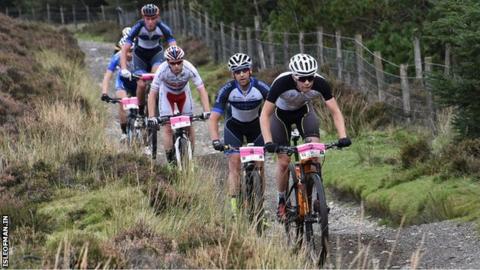 Seven hundred mountain bikers will compete in the gruelling End to End Mountain Bike Challenge in the Isle of Man on Sunday.
It sees cyclists ride 46 miles (75km) over mixed terrain between the Point of Ayre in the north of the island to Port Erin in the south.
English rider and event record holder Ben Thomas retained his title in 2016 in three hours, 12 mins and 23 secs.
He finished 53 seconds ahead of Nick Corlett, with Elliot Baxter third.
Thomas had a race long battle with the two local riders before claiming victory.
With Thomas not competing at this year's event, Corlett and Baxter will start as favourites.
Anke Dannowski from Dresden was the leading female rider, 53rd overall, and despite the difficult head wind, dipped under four hours.
More than 700 competitors started the 2016 race, with 651 completing the full distance.
This year there are two major changes to the route after Manx government and local landowners granted special permission for the race to start by passing through the National Nature Reserve at The Ayres.
The off-road section will replace a stretch of five miles (9km) on the road and will be followed by the first major climb through Ballaugh Plantation designed to "alleviate congestion."