Cyclefest 2017: Hundreds set for Isle of Man road race and mountain bike event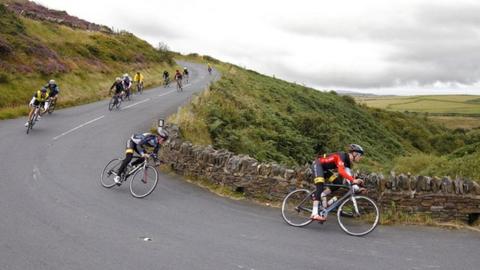 Hundreds of amateur riders are set to compete in a three-day cycling festival in the Isle of Man.
The island has a long cycling history, having previously staged Britain's biggest festival, International Cycle Week, for almost 70 years until 2003.
Organisers said the Cyclefest event, now in its second year, will celebrate the island's "unique culture, environment and terrain".
The festival will feature both road and mountain bike races.
The schedule includes the gruelling 82-mile (130 km) Grand Fondo race on closed roads and the 1.5 mile (2.4 km) 'Storm the Tower' hill climb.
"These are the very leafy lanes and windswept moors that have helped forge champions like (Mark) Cavendish and (Peter) Kennaugh," the spokesman added.
The 2017 event will open with a community day in and around Ramsey town centre on Friday.
A full event schedule can be found on the Cyclefest website.