Yoann Offredo: French cyclist 'assaulted with baseball bat & box cutter'
Last updated on .From the section Cycling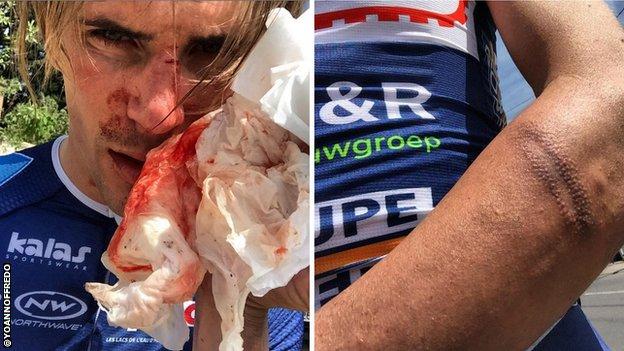 French cyclist Yoann Offredo says he suffered a broken nose in an assault by attackers who used a box cutter and baseball bat while on a training ride.
The 30-year-old posted pictures of himself on his Facebook account with a bloodied face and an injury to his arm.
Offredo, who rides for Belgian team Wanty, said the attack resulted in "a broken nose, a rib in a sorry state and bruises all over the body".
He added: "But on top of the physical injuries, I'm above all shocked."
Offredo, who said he was on a training ride with two friends, did not specify where the alleged assault took place and gave no other details about the attackers.
"I'm not angry, I'm just sad to say that I hope my children don't take up this great sport that I love," he said.
"You leave in the morning to go training but never know if you'll be coming back."