James McLaughlin: Guernsey cyclist moves to Austrian Hrinkow Advarics team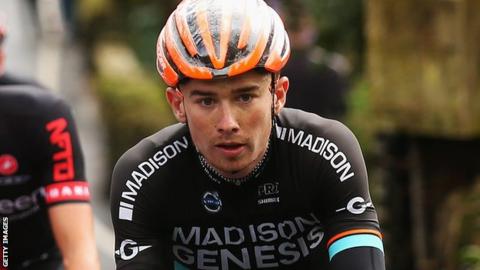 Guernsey's James McLaughlin has moved to the Austria-based Hrinkow Advarics team for the 2017 season.
The 25-year-old moves from another Austrian team, Felbermayr-Simplon Wels.
He rode for the Guernsey at the last Commonwealth Games in Glasgow in 2014, and achieved three podium finishes in Austrian Cup races this year.
"Hrinkow made me the best proposal for many reasons, but most importantly had absolute belief in my ability," McLaughlin said.
"Having the freedom in the big races means I can fight for results that will allow me to make that step up to World Tour, which is my ambition."
McLaughlin was fifth when he last competed in the British Time Trial Championships in 2014 and is hoping he will be able to better that showing in 2017.
"Individually, injury and logistical problems have stopped me entering the British time trials for a few years, so fighting for a championship jersey is important,' he said.
"Looking ahead to the (2018) Commonwealth Games, that is the pinnacle of island sport so it means a lot to me to be able to represent Guernsey at this level and I'm aiming to finish on the podium and bring home a medal."