Bjarne Riis knew about doping but failed to act, says report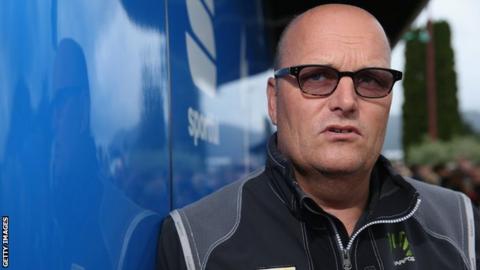 Former team owner Bjarne Riis knew his riders were doping but failed to act, according to a report by Anti-Doping Denmark (ADD).
Riis won the Tour de France in 1996 and later admitted to doping in his career.
This report's revelations relate to alleged events at Team CSC which occurred too long ago for charges to be brought.
The Dane, 51, left Team Tinkoff-Saxo, as CSC is now known, in March after a dispute with new owner Oleg Tinkov.
Riis took over the Denmark-based team in 1999 and sold it to Russian businessman Tinkov in December 2013.
The maximum time in which action could be taken for anti-doping violations was eight years until 2015, when it was increased to 10 years by the World Anti-Doping Agency.
According to the report, Riis asked Danish rider Bo Hamburger to acquire erythropoietin (EPO) for German team-mate Jorg Jaksche. Synthetic EPO improves aerobic capacity by artificially raising the user's red blood-cell count.
Jaksche confirmed the story to investigators but Riis denied it, claiming he did not know that Hamburger and Jaksche were doping.
Riis is also accused of knowing that American rider Tyler Hamilton and others on the team were doping, as well as turning a blind eye to the widespread use of cortisone, a powerful anti-inflammatory, without proper medical consent.
The report, released on Tuesday and based on more than 50 interviews, was inspired by a US Anti-Doping Agency investigation that saw Lance Armstrong stripped of his seven Tour de France titles for doping offences and banned from professional cycling for life.
It was also conducted with co-operation from the Dutch anti-doping authorities, who led the investigation into doping on the Rabobank team involving Dane Michael Rasmussen.
"Management, with Bjarne Riis in overall charge, has at a minimum had knowledge of doping within the team, but failed to intervene. It is completely unacceptable," ADD director Michael Ask said in a statement.
On Monday it was confirmed that Tinkoff-Saxo sporting director and former CSC star Nicki Sorensen had admitted to ADD in 2013 that he had doped during his riding career.
Tinkoff-Saxo released a statement to say the Dane had informed its management of this at the time and it was happy to let him reach a private settlement with ADD.
"Tinkoff-Saxo has a deep-rooted anti-doping culture," the statement said.
"And it was convinced at the time and remains of the view that Sorenson has conducted himself fully in accordance with this culture over the past decade of working with the team."
The BBC has tried to reach Riis for comment without success.