Bradley Wiggins: City Road Club event a chaotic warm-up
Last updated on .From the section Cycling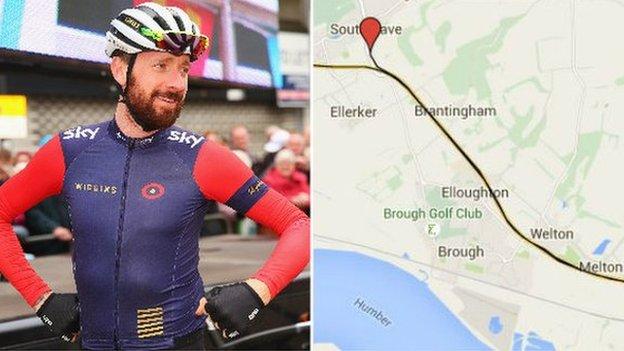 Sir Bradley Wiggins has taken victory in an Olympic Velodrome, cruised to glory on the Champs-Elysees but fancies winning £50 on the A63 near Hull.
Wiggins, 35, wants to set the longest distance ever in an hour on 7 June but will attempt the British 10-mile record on Saturday as part of his preparation.
His attempt at Alex Dowsett's time of 17 minutes 20 seconds will be carried out on the A63 between North Ferriby and North Cave with traffic whistling by, club riders out to beat him and £50 on offer to the winner.
The 2012 Tour de France winner should, you would think, have plenty in the tank to win Saturday's race and cash sum, but he will only win a certificate if Dowsett's record - set last year - is broken.
To do so, an average speed of 34.6mph will be needed as he races alongside cars on their way to the Saturday afternoon shops.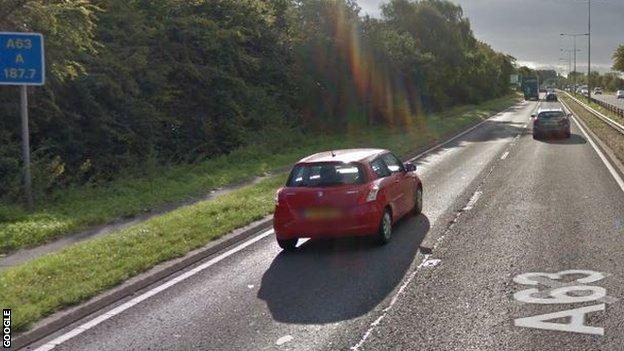 His inclusion will delight hardened club riders chasing a personal best on the course, which is known to offer fast times if winds are not too strong.
Wiggins, regarded by cycling aficionados as a man who understands the grass roots of the sport and events such as the City Road Club open 10-mile time trial, held the national 10-mile record in 2006.
"Ours is one of the quickest courses in the country on the right day," said City Road Club's chairman Ken Bateman. "If it's wet or windy it might not happen but the forecast is good so he has every chance of recording a time around 17 minutes.
"We are overjoyed and honoured to have Sir Bradley Wiggins riding on our local course."
Since holding the 10-mile record in 2006 Wiggins has claimed three of his four Olympic gold medals, the Tour de France and Tour of Britain.
His form will be scrutinised when he returns to track competition as he attempts to again take a Dowsett record in London next month. Anything over 52.957km will set a new mark for the time-frame.