Glasgow 2014: 'Strongest ever' Manx team departs for Games
Last updated on .From the section Cycling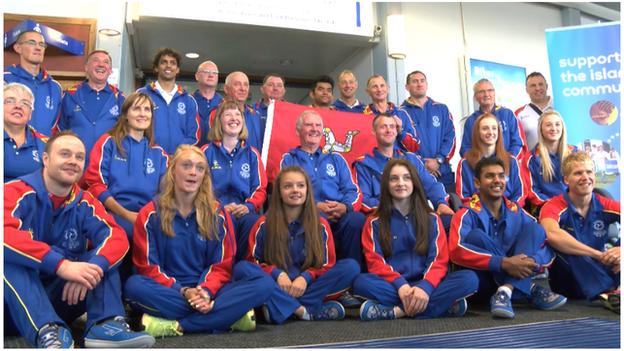 The Isle of Man's largest-ever Commonwealth Games team has departed for Glasgow 2014.
The majority of the island-based athletes and coaches departed on the morning sailing to Heysham before travelling on to the athletes' village.
Team manager Trevor Taubman said: "It is the biggest and strongest team to ever represent the island at the Commonwealth Games."
The opening ceremony will he held at Celtic Park on Wednesday.
Forty-six Manx athletes, including British road race champion will compete.
The Commonwealth Games is the highest level at which a Manx sportsperson can represent the island.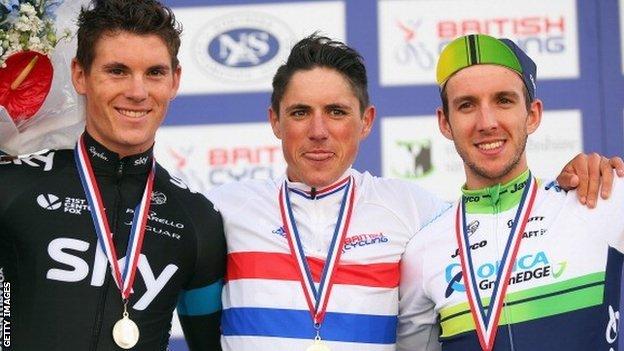 Around half of the team travelled on Friday and will meet up with the overseas athletes and cycling and shooting teams.
Taubman added: "Everyone on the Isle of Man can be sure this team will do their best to continue the island's proud history at the Games.
"All our competitors have worked hard to achieve the qualifying standards and will be representing the island against some of the world's strongest sporting nations.
"We'd love to come back with medals but I hope the whole team performs to their best."
Team captain Alex Hedges said: "It's my third Games and they have all been different. The first I was on my own, the second I was part of a team and this one I am the captain.
"I'm over the moon to have this honour and we are ready."
Triathlete Andrew Nash is the first Manx athlete to compete for a medal on the opening day of competition.
He said: "I feel totally prepared and can't wait to test myself against some world class athletes.
"I'm up first but then I can relax and enjoy the rest of the event."
The largest Manx teams will compete in cycling, gymnastics, shooting and swimming.
Gymnast Grace Harrison will become one of the first Manx gymnasts to represent the island at the Games.
The teenager said: "Being here with the team all in our kit makes it feel very real and it's really exciting. I've watched so many Games so to be part of it and represent the Isle of Man is amazing."
Athlete Harriet Pryke, who will contest the 400 metres, said: "I'm excited and nervous at the same time.
"I've been training for four years for this moment so I am ready to do by best. I am based in the UK now but it is great to part of this team."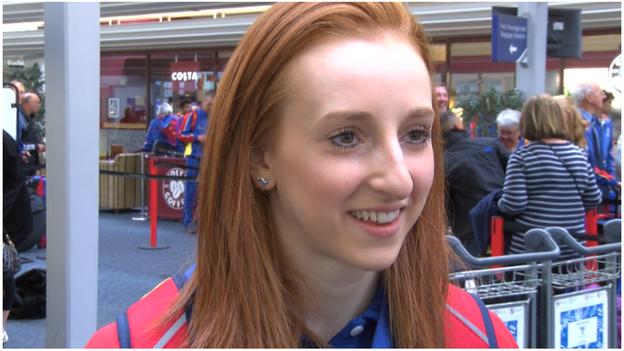 In 2010, the Isle of Man sent 31 athletes to Delhi, winning two bronze medals.
The opening ceremony will be broadcast live on the BBC, starting at 20:00 BST.
Manx Team
ATHLETICS
Steve Partington (manager); Harriet Pryke; Keith Gerrard; Reagan Dee; Olivia Curran
BADMINTON
Frank Anderson (manager); Ben Li; Cristen Callow; Kim Clague
BOXING
John Cain (manager); Krystian Borucki
CYCLING
Graeme Hatcher (manager); Gary Hinds (coach); Mike Doyle (coach); Alex Jaffrey (mechanic); Peter Kennaugh; Mark Christian; Jonny Bellis; Joe Kelly; Jake Kelly; Andrew Roche; Elliot Baxter; Anna Christian; Laura Wasley
GYMNASTICS
Haresh Measuria (manager); Gennady Tsyganov (coach), Valery Molchano (coach); Alex Hedges; Anand Patel; Mukunda Measuria; Harshul Measuria; Kaitlin Kneen; Tara Donnelly; Grace Harrison; Nicole Burns
LAWN BOWLS
Clive McGreal (manager); Bernice McGreal
SHOOTING
Phil Ward (manager); Phil Glover (manager); Kevin Gill (coach); Ian Shirra-Gibb (coach); Tim Kneale; Jake Keeling; Neil Parsons; David Walton; David Clague; James Bradley; Harry Creevy; Ben Kelly; Rachel Glover; Gemma Kermode; Lara Ward
SWIMMING
Leonie Cooil (manager); Lee Holland (coach); Grant Halsall; Tom Bielich; Guy Davies; Alex Bregazzi; Charlotte Atkinson; Laura Kinley; Niamh Robinson
TRIATHLON
Graham Stigant (manager); Andrew Nash
SUPPORT
Juliet Holt (President, Commonwealth Games Association of the Isle of Man); John Knight (Vice-President CGA IOM); Tonia Lushington (Chef de Mission); Trevor Taubman (general team manager); Chris Till (assistant general team manager); Frank Vaughan (team doctor); Danni Bell (office manager); Ruth Cooil (physio); Wendy Shallcross (physio)