Chris Froome: Wada satisfied steroids request followed rules
Last updated on .From the section Cycling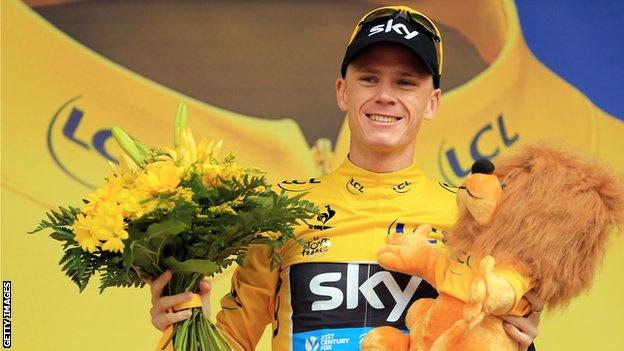 A special exemption allowing Chris Froome to take steroids ahead of the Tour de Romandie followed correct procedure, say doping bosses.
A French newspaper claimed the International Cycling Federation (UCI) failed to refer the request to the relevant committee.
But the World Anti-Doping Agency said it was "satisfied" with the process.
Team Sky had asked the UCI to grant a therapeutic use exemption (TUE) after Froome contracted a chest infection.
Le Journal du Dimanche newspaper had asserted that Team Sky's request for Froome to take corticosteroid prednisolone ahead of the race at the end of April was authorised by the UCI medical supervisor without referring the case to the TUE committee.
However, a Wada statement said it was "satisfied that the UCI's decision to grant a Therapeutic Use Exemption to Chris Froome was conducted according to the rules of the International Standard for Therapeutic Use Exemptions, and therefore will not be reviewing this case any further".
The UCI has also looked into the newspaper's claims but said "nothing out of the ordinary occurred" in the process to grant an exemption.
In a statement, the sport's governing body said: "Any rider in the same situation with comparable supporting medical evidence would have been given an authorisation to take similar oral treatment."
The UCI is reviewing its anti-doping rules and said it was looking at the TUE process with Wada.
Froome, the reigning Tour de France champion, overcame his illness to win the Tour de Romandie for the second year in succession.