Geraint Thomas: Paris-Nice crash hurt physically and mentally
Last updated on .From the section Cycling25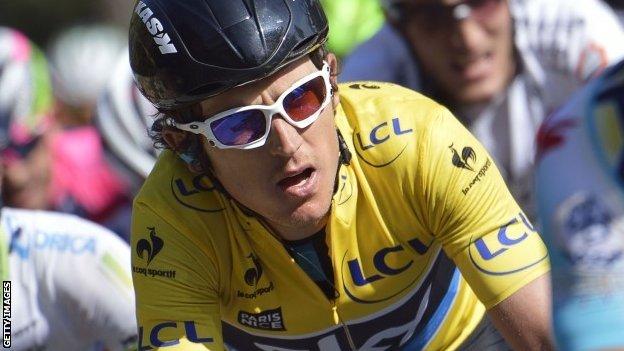 Team Sky rider Geraint Thomas was lying second in last week's Paris-Nice race, eight seconds off the lead, when his hopes of victory or a podium finish were ended by a painful crash near the end of the penultimate day of the eight-stage race. In his BBC Sport column, the Welshman describes how it felt for his hopes of the biggest road victory of his career to be over in an instant.
Crashes happen all the time in bike races, but for all the hard work I had done all week in Paris-Nice to disappear in a split second was devastating.
I have not seen a TV replay so I still don't really know what happened. I remember somebody turning in front of me and being over my handlebars, trying to pull my bike backwards to get round their wheel.
Next thing I know, I am on the floor and under a crash barrier. Not ideal.
All that was going through my head when I was on the side of the road was that my race was over and my fight for general classification victory was done. I knew it straight away, so the disappointment was instant.
It was a pretty heavy fall so it was painful as well, and I knew when I was on the ground that I was not going to be getting straight up and chasing to get back into the lead group.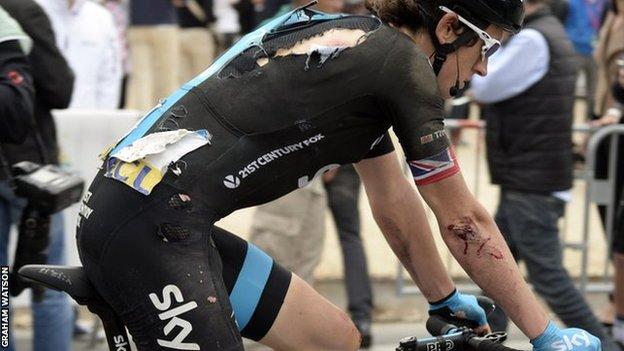 I still got back on my bike in the end and finished the stage. I don't know why - it is just what you do as a bike rider after a crash: get back on, if you can, and get to the finish.
I did not feel I had injured anything seriously and I just wanted to get back on my seat. Just turning my legs over always helps me feel a bit better. I got a bit of time on my own too, which was important.
My emotions were pretty high at that point, so being away from everyone and not having to speak to anyone helped a lot as well. I was able to reflect a bit on what had happened.
Deciding my race was over
My adrenaline was flowing at the time so, when I got back on my bike, the pain I was in from the crash was not really specific - it was just everywhere!
It was not unbearable, though, and it was not until I got on the team bus half an hour after the crash that things started to hurt a bit more.
My back was the worst bit, because I slid quite a distance on it. So I have quite a bit of road rash because, as well as ripping my jersey to shreds, it took a lot of skin off.
And then I had a chunk out of my hip as well so I had to have some stitches put in that once I got back to the hotel.
My knees were actually OK, despite being being bloodied all over, but I am pretty bruised and quite sore at the moment.
The Team Sky doctor, Richard Usher, was looking after me on the team bus on the way back and we were talking about what to do next with sporting director Nicolas Portal, along with my coach Tim Kerrison.
We made the decision to pull out, and not to ride on the last day of Paris-Nice on Sunday.
Instead I went home and used it as an extra day to recover and heal up and get ready for the Spring one-day classics season, which starts with the famous Milan-San Remo race this weekend.
If I had raced on Sunday, it would have just prolonged the time I took to get fully fit.
It might have been different if I had crashed in the last 3km of the stage, rather than 5km from the finish, because I would have been given the same time as the riders I was with and that would have kept me in with a shout of the overall win on the final day and given me something to really fight for.
But I lost more than seven minutes on Colombian race leader Carlos Betancur, who I trailed by just eight seconds at the start of the day.
So, if I had finished the race, I would have been going out there to hurt myself for no real purpose.
Taking the positives out of my performance
I suppose one of the upsides of the crash happening where it did is that I was not far from home - I was about a 20-minute drive away from my flat in Monaco.
I went home on Sunday and did not see the final day of Paris-Nice. I watched Premier League football on television instead. At least Arsenal won the north London derby, and what a goal by Tomas Rosicky by the way!
I did follow Paris-Nice on the internet, though. I probably shouldn't have done because that just made me want to be there.
My crash was a massively frustrating end to what had been a great week, but I can still take a lot of positives away from my performance.
The coaches put faith in me to lead the team after Ritchie Porte switched to the Tirreno-Adriatico race instead.
I was confident I could do the job but it is one thing thinking that I could get a result and another thing actually going out there and doing it.
I think I proved to myself and a lot of other people what I could do.
I said in my last column that this season is a big one for me to decide my direction as a rider and the Paris-Nice race has definitely given me that incentive to really press on and focus on being the man going for the general classification wins in major stage races.
Everything had gone so well. In the early stages which were really stressful, with plenty of crashes, I managed to stay safe and out of trouble.
The way the rest of the Team Sky boys rode for me all week was fantastic, and taking the jersey on stage four and proving I deserved to be there as the leader was fantastic.
It was all going to plan and I could not really have scripted it much better. For it to all just disappear like it did through no fault of my own definitely makes it more frustrating in a way.
But then at the same time, like a lot of people have said to me, I could have been 20th and crashed out after not performing well on my chance to lead the team, and I would have been even more disappointed about the way things went.
Now it is time for me to look forward and to focus on the Spring classics, which are a series of one-day races over the next few weeks. They are notoriously tough but it is just a case of racing hard and getting stuck in.
Team Sky have got a strong team and we are going into them full of confidence. Tactically, we learnt a lot from when things did not go so well for us last year and we think we can do a lot better this time.
I will tell you more about each race in Friday's BBC Sport website preview, with the Milan-San Remo first up on Sunday.