Stephen Roche is inducted into Giro d'Italia's Hall of Fame
Last updated on .From the section Cycling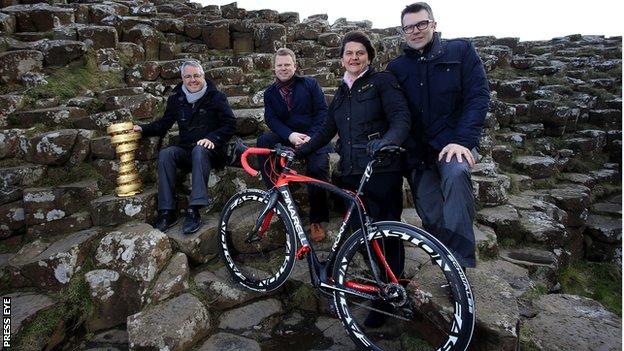 Former Irish cyclist Stephen Roche was inducted into the Giro d'Italia Hall of Fame at a special ceremony at the Giant's Causeway on Tuesday.
Roche became one of only two riders to win professional cycling's Triple Crown in 1987 by winning the Tour de France, Giro d'Italia and World Championships.
It is the first time the Hall of Fame has taken place outside of Italy.
This year's Giro d'Italia starts in Belfast on 9 May before moving to the Causeway Coast, Armagh and Dublin.
The ceremony in the Causeway Hotel was attended by NI Tourism Minister Arlene Foster and a large contingent of Italian press ahead of the Giro d'Italia coming to Northern Ireland.
The 'Grand Partenza' or 'Big Start' will take place in three stages around Belfast, the Giant's Causeway coast and finally through south Armagh and on to Dublin on 11 May with an expected sprint finish in Dublin's Merrion Square.
The stages will be watched in over 160 counties with more than 200 elite cyclists taking part in the event.