Chris Froome worried by Jonathan Tiernan-Locke anti-doping case
Last updated on .From the section Cycling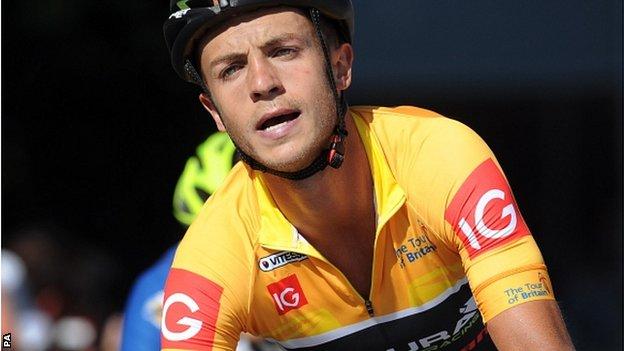 Tour de France winner Chris Froome says it is "inevitable" that his reputation will be tarnished by team-mate Jonathan Tiernan-Locke's anti-doping violation.
Froome told BBC Sport he expects to suffer by association with his fellow Briton, saying: "Definitely. Inevitably that's the reality of it.
"It's hugely unfortunate for the team this is now happening."
Tiernan-Locke, who denies any wrongdoing, rode for the Endura team in the 2012 season, during which time he won the Tour of Britain.
The 28-year-old pulled out of the 2013 World Championships in September after being asked to explain his results by the International Cycling Union (UCI).
Team Sky said at the time the readings were "taken before he signed" in 2012 - a stance they repeated on Tuesday - and Tiernan-Locke will not ride again until disciplinary proceedings are completed.
"It's still being contested and there's going to be a trial," added Froome. "I think we're going to have to wait until the end of the trial to actually know exactly what's going to happen."
Froome has never failed a doping test of any sort but repeatedly had to answer questions about the subject on his way to winning the Tour de France for the first time this summer.
"I really do think the best thing to do with the whole doping culture of the sport, to move past that image that we've had in the past, is to talk about it," said Froome.
"Be completely open and say: 'Listen, this was is what happened in the sport back then but it's definitely not happening any more, and these are the reasons.'
"It needs to be talked about and we need to move on from that.
"But there is going to be a point when enough is enough, and we need to get on and start talking about the good things in the sport and the great racing that's getting missed now because we're harping on about what happened 10 years ago."
Froome and Tiernan-Locke rode three races together for Team Sky this year, including the Criterium International in Corsica, which Froome won while Tiernan-Locke failed to finish.
Tiernan-Locke has endured a terrible first season in cycling's top tier, with a best result of 47th in the third stage of the Volta ao Algarve.
Endura team manager Brian Smith backed Tiernan-Locke, telling BBC Radio 5 live: "I'm 100% behind him. He's not a doper. Endura racing had a no-doping stance and as far as I'm concerned he was true to his word.
"Throughout the Tour of Britain he was urine-tested every day and a blood booster would have shown up, so it doesn't make sense."
Tiernan-Locke's agent, Andrew McQuaid, son of the former UCI president Pat McQuaid, did not want to comment, saying only that he was focusing on Tiernan-Locke's defence.