Chris Froome aiming to lead cycling into new drugs-free era
Last updated on .From the section Cycling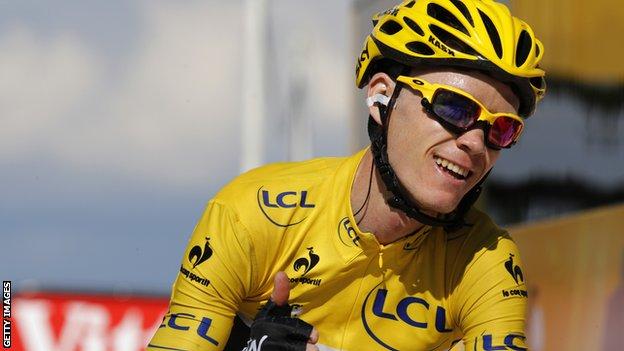 Chris Froome wants to retain his Tour de France title and prove cycling has entered a new drugs-free era.
Cycling authorities have stripped Lance Armstrong and Alberto Contador of recent titles after drugs scandals.
Now Froome wants to become the first since Spaniard Miguel Indurain in 1995 to retain his title without being tarnished by a drugs association.
He said: "I'd like to think if I can go back and do it again it will bring some credibility back to the sport."
Throughout his triumph during this year, Froome, 28, consistently claimed he was drugs free and was on a personal mission to prove cycling was clean once again.
But he has come to terms with the fact that, since Armstrong was stripped of his seven Tour de France titles, there will always be those who question both his success and that of Team Sky team-mate Sir Bradley Wiggins.
"I know for a fact some people were dubious about the results I got last [season] and Bradley the year before," he said.
"I know myself that my results aren't going to be stripped, but it will take time before people will see they are going to stand.
"I think we're through the toughest time of it now. It is really a minority of riders breaking the rules now and getting caught, but we are still living in that post-doping era where we are having to deal with a lot of negativity."
Since emerging from Wiggins' shadow last year, taking the Tour de France title with a lead of more than four minutes over his nearest rival and winning four stages, he has been named on the 10-strong shortlist to succeed Wiggins as this year's BBC Sports Personality of the Year, which will be announced in Leeds later this month.
"It's a great honour to be included, especially given the strong year British sport has had," said Froome.
"It's a prestigious award and it says so much for the emergence of our sport that a cyclist has managed to win it for three of the last five years."
His sights are now set on retaining the Tour title, which will start in Yorkshire for the first time, and challenging for another Olympic medal in Rio in 2016.
"The biggest goal and challenge for me is going to be to try to re-focus myself on the Tour de France year after year," he added.
"I'd like to think I'm going to carry on riding it for as long as I can find the motivation and as long as I'm physically up for it."