Ottilie Quince: Mum's kidney made me a world champion
By Chris Osborne
BBC East Sport
Last updated on .From the section Cycling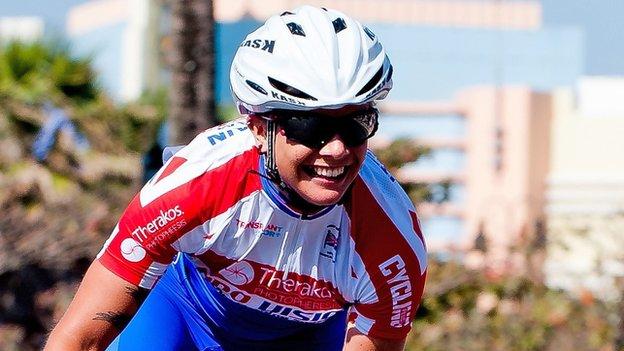 Within days of becoming the fastest female transplant cyclist in the world, Ottilie Quince was waking up in hospital - uncertain whether her only kidney was still part of her.
In August, Quince won two world titles, all the time knowing that her kidney, the one given to her by her mum six years ago, had a cancerous tumour.
"I was a bit down. Very nervous. Scared. It was a weird week," the 31-year-old from Luton told BBC Sport.
"After the successful operation it dawned on me I was a double world champion, without a tumour, and could possibly be even fitter."
Quince, a defender for Luton Ladies Football Club at the time, found out seven years ago that both of her kidneys had barely developed from when she was a child.
A routine check-up showed she had high blood pressure and, after tests, it was determined she was in end-stage kidney failure. The football career was to go no further.
Quince would need an organ donor, or face the prospect of a dialysis machine.
Dad had already ceded one to Quince's uncle. One brother was not the correct blood type. That left two other brothers and her mum, Lesley.
"My mum really wanted to be the donor. She didn't want to see two of her kids in hospital," Quince, a qualified sports therapist, explained.
"She said she created me, she wanted to fix me.
"But to find out who was the best match, we had to do 24-hour urine collection, weeing into this container. My brother was working in the City and he would have to carry a large backpack filled with fluid.
"We tried to make a game of it by calling it the X Factor. My mum and brother went through to boot camp. We always had humour because they could see I was deteriorating.
"I became really yellow. I looked like a Simpsons character."
Named Poppet - because "they just popped her in" - Quince's new kidney not only enabled her, with the help of a heap of medication, to pursue competitive cycling, but created an intrinsic link between her and her mum.
"Without Poppet I'm nobody," she said. "On Poppet's birthday, my mum and I go for out a meal. I write a card and usually end up crying on it like a big wuss."
And it is because of that transplant that Quince sits in her Luton living room, amid a jungle of bikes hanging from the wall, interspersed with four world championship medals dangling from nails.
As she talks, Cav and Wiggo stride through the house like they live there. They do. They are her cats, named after British cycling heroes Mark Cavendish and Bradley Wiggins. This girl is cycling mad.
After having to give up football, something had to fill the void.
"It kind of makes you feel alive - going down a big hill or slugging your guts out up a hill," said Quince.
"I made a friend called Sam in hospital, who had a second kidney transplant which her body rejected. She died of a heart attack in her mid-20s three or four years ago.
"There's one hill out in the countryside I named 'Sam's Hill'. It's a bitch of a hill. If I'm feeling down I go up that hill and get her to motivate me. I know it sounds silly."
By 2010, Quince had won the road race and time trial for her age group at the British Transplant Games.
A year later, she repeated that feat at the World Transplant Games and then did the double again earlier this year - only this time beating every other woman in the field.
"People ask, 'compared to an Olympian, how good are you?' The answer is 'not very'," is her honest assessment of her capabilities.
"But compared to any other person on 12 tablets a day, with somebody else's organ in me - I'm the best in the world.
"I'm on too many drugs to become an Olympian. Even if I were any good I'd be banned."
As it stands, Poppet has recovered from her brush with cancer well, but she will have regular six-month check-ups.
In the meantime, Quince has turned her attention to other battles.
After spending £2,500 to go to this year's championships in South Africa, and seeing numerous team-mates do the same, she is working with Transplant Sport UK to try and secure some sort - any sort - of financial backing.
British athletes took 13 cycling medals, including nine gold, at this year's world championships - none of them received lottery funding.
Personally, she is dabbling in track cycling, mixing it at national-standard events.
But, high on the agenda, is a mission to prove the importance of being a donor - you never know, you could become a small part of a world champion.
"If somebody has saved your life, what are you then going to do with your life?" Quince asked.
"If you're just going to exist then fine. My friend ran the London marathon six months after a heart transplant. We're showing our donors how much we appreciate it and how proud we are of them."