Bradley Wiggins' bike or a family car? A prize dilemma
Last updated on .From the section Cycling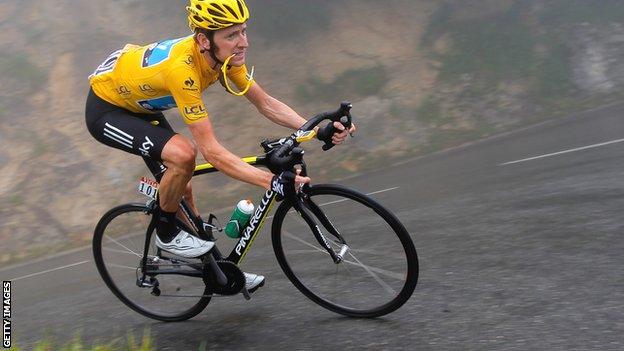 All Chris Green really wanted was faster broadband.
What he got instead was a dilemma: he could have enough money to do something nice for his young family, or he could own a bike worth more than his car.
A new kitchen, or a carbon racing machine? It is a dilemma for many middle-aged men in Lycra, but Green's choice was even harder: this is not just any bike.
Two months ago, having absent-mindedly ticked a couple of boxes on a letter about his internet service from Sky, Green received a large box in the post. He had won a competition.
Inside the box was a Pinarello Dogma 2. There was also a Team Sky shirt covered in autographs and a certificate of authenticity signed by Sir Dave Brailsford.
You see, this isn't just any Pinarello; it's one of three Pinarellos that made Bradley Wiggins a Sir, gave Britain its first Tour de France champion in 2012 and inspired thousands of would-be Wiggos to take to the lanes every weekend.
Green's first thought was to give it a try. Having recently bought a reasonable bike of his own, the father-of-two hopped on for a quick loop around the streets of his Surrey home.
"It was like going from an Escort to a Ferrari," says Green. "It felt so light that when I got out of the saddle it was like there was nothing beneath me."
Sadly, the gears were set up for an Olympic champion, not a 37-year-old amateur with dodgy knees. And there was also the worry about how much it would cost to fix those electronic gears, not to mention the prototype wheels.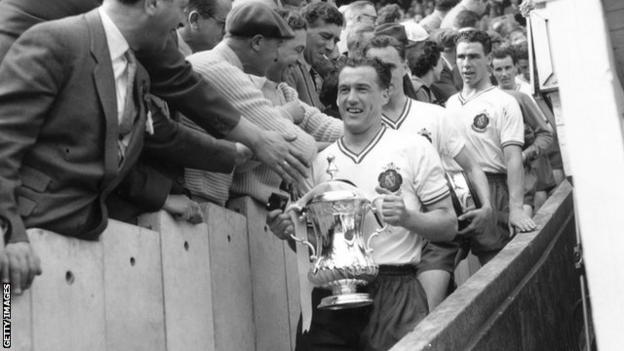 No, this was clearly too much bike for Green to actually ride. Could he hang it on the wall?
"It's very nice, darling, but it's not going in the living room," was his wife's reply.
So this was too much ornament for Green to keep, too. He was going to have to sell it.
But who would buy it? And is it worth more than the sum of its £8,000 parts, or less because it is now third-hand?
The traditional way to answer these questions is to ask an auctioneer, but cycling memorabilia is a new phenomenon in this country.
"We have never sold a bike," says sports memorabilia expert Chris Hayes of Bonhams auction house in Chester.
"We did once sell a Lance Armstrong jersey, though. I think it got nearly £600."
The legal phrase caveat emptor - let the buyer beware - springs to mind.
In the global sports memorabilia market it is all about baseball - sporting legend Babe Ruth-related items account for eight of the top 20 prices ever paid at auction. But in the UK, football rules.
Earlier this month, Hayes auctioned off 69 lots of Nat Lofthouse memorabilia, including the Bolton and England legend's 1958 FA Cup winner's medal for £16,500, and his 1953 Football Writers' Footballer of the Year trophy for £10,000.
The typical buyer is a dedicated supporter, somebody for whom it is not enough just to go to the games. They want a physical connection with their clubs, something that sets them apart. They might start with a programme or a ticket stub, before moving to the framed shirt.
Then there are the investors, Lovejoy-types having a punt in an uncertain market. They are looking for cups and medals, items that will not fade or tear.
And finally, you have institutional buyers: clubs, countries and national governing bodies trying to fill their halls of fame and trophy cabinets. There are not many cycling museums in the UK, though.
"There hasn't really been a market for cycling collectibles in this country, but we are just beginning to see one emerge," says Graham Budd, who runs his own sports memorabilia business in London.
Budd actually sold his first bike at auction last week, and, like Green's Wiggo machine, it was a pioneer.
"We sold the bike that (Estonian cyclist) Erika Salumae won the sprint on at the 1992 Olympics in Barcelona," he explains.
"It was a significant moment because the Berlin Wall had just come down and it was Estonia's first Olympic medal as an independent country.
"The auction was front-page news there, and all over the TV as well. She's a big star. It went for £8,000 to an Estonian buyer in the end."
Eight grand for an ugly bike with no brakes or gears? Surely, that has got to be good news for Green and his hi-tech combination of Italian and Japanese engineering.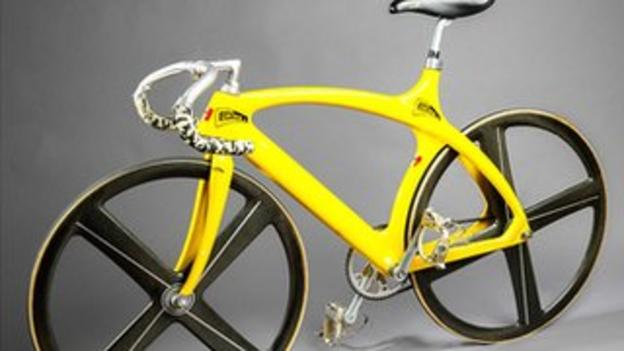 "All collectors crave owning something that nobody else has," warns Budd, who also sold Cyril Knowles' 1967 FA Cup winner's medal for £14,000 last week.
"The problem (Green) might have is we are not sure how unique this bike is, and wherever you have the risk of multiples, value is diluted.
"It happens quite a lot with football shirts - players get given long-sleeve ones and short-sleeve ones, and some like to change into a fresh shirt at half-time. It can be difficult to prove that your shirt is THE shirt."
Anybody with even a passing knowledge of cycling will know that riders have more than one bike - you can see them on the roof racks of the team cars - but most will also understand that bikes are usually very personal pieces of kit. The handlebar tape might get changed every fortnight, but the frames stay the same.
Team Sky have already confirmed that the bike Green won in the competition is one of three Dogma 2s Wiggins rode during 2012, a stunning campaign that saw him win three big stage races before claiming an unprecedented Tour/Olympic double. But there were also time-trial bikes and a garish yellow number that he used for the final Tour stage in Paris.
We also know that one of those other two regular Dogma 2s was won in a competition in The Times and promptly sold on eBay. Team Sky were not very happy about that, says Green, who wants "his" bike to go to a worthy home.
This is why he has chosen not to sell it in an auction, or dip his toe in the uncharted waters of eBay. Green is selling Wiggo's wheels via the London Cycle Exchange, a "pre-owned performance bicycle club" that gives buyers a guarantee that the top-end, second-hand bike they are buying works and is not wanted by the police.
The bike will be listed on the website for the rest of November, and potential buyers can drool over 18 photos, noting the Team Sky water bottles, Wiggins sticker on the side of the top tube and certificate of provenance from Brad's boss Brailsford.
Bar a change of pedals and the absence of Wiggins' power meter, a device used to measure a rider's pedalling power, this is definitely one of THE bikes that won THE biggest, hardest and most famous bike race in the world, and there are not many of those.
"I'd love to keep hold of it," admits Green. "But we're a single income family with two kids. It's a no-brainer, really."
He knows not everybody will understand - and some posters on cycling message boards have referred to him as "one uncareful owner", or "money-grabbing" - but how many of us would keep a bike we are not really good enough to ride, or allowed to put on the wall?
If you feel differently, you could always make Green an offer.