Brian Cookson 'confident' ahead of UCI presidential vote
Last updated on .From the section Cycling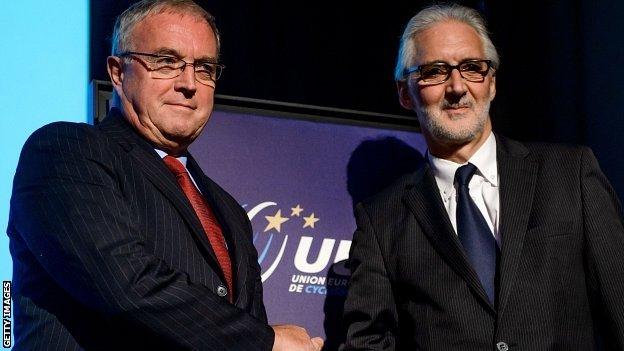 Briton Brian Cookson believes he has the necessary support to be elected president of the International Cycling Union (UCI) on Friday.
Cookson, 61, is challenging Irishman Pat McQuaid for the role, with 42 delegates set to vote in Florence.
McQuaid, seeking a third term, has been criticised for his handling of the Lance Armstrong doping affair.
"I'm very confident there's a massive groundswell of support for me," Cookson told BBC Sport.
"A real feeling that the UCI needs change and it needs change from the top. I'm confident in the honesty and integrity of the people that they'll vote for me and vote for change."
Cookson and McQuaid have accused each other of bending the rules during an acrimonious campaign.
British Cycling president Cookson is confident he will win all 14 European votes after the delegates were instructed to back him following a vote at the European Cycling Union (UEC) earlier this month.
"I trust the honesty and integrity of those people," said Cookson.
He added he "wouldn't try to second-guess" the presidential vote, but insisted: "I am confident that it will go my way.
"I think there's a massive appetite for change around the world of cycling, that's clear, and I'm absolutely convinced that that's going to turn into votes for me.
"They want a new face at the top. They want a new start and a new leadership, and I think people do believe that I can bring that to the UCI."
Cookson had previously said that it will be "a bad day for cycling" if he fails to win the election, and he stuck by that assertion.
"Perhaps that's a little scaremongering in a sense, but we really need to heal the stories that are there in cycling," he said.
"There's been too many disputes. We've had an era where the UCI has chosen to enter into all sorts of feuds and squabbles with the very people that should have been helping us rebuild the sport. I want to put an end to that era."
As well as support from Europe, Cookson has received backing from the federation presidents of Canada and the United States, as well as the Oceania confederation and its three votes.
McQuaid failed to secure nominations from either Ireland, the country of his birth, or Switzerland, where he now lives, and is relying on Asia (nine votes) and Africa (seven votes).
"I do have a lot of support from within the sport itself, but I'm not going around listing names every day of people who are supporting me," McQuaid said earlier in the week.
"I've enough to be doing to continue my job in running the UCI than looking for endorsements."
McQuaid insists he has tackled the issue of doping during his eight years in office, despite falling out with the World Anti-Doping Agency (Wada), but Cookson said: "These allegations from the past, from the Armstrong era and beyond, have never been dealt with.
"That's why these things keep coming back to haunt us."
Asked what his first action as the new president would be, Cookson said: "Getting on the phone straight away to the World Anti-Doping Agency to get under way a process that can eliminate those problems from the past, learn those lessons and make sure that we don't repeat those mistakes again."
And should such a process raise fresh questions about individuals' behaviour, Cookson said there would be no immunity from prosecution.
"If someone's done wrong, nobody's immune from due process," he said. "Absolutely not. If people have done dishonest things, that will be put in the hands of the appropriate authorities."