UCI declines request for arbitration before presidential election
Last updated on .From the section Cycling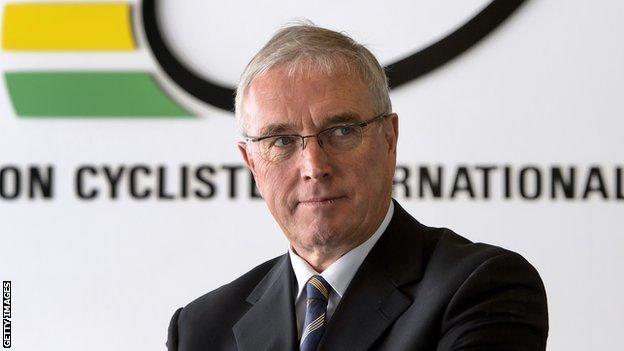 The International Cycling Union (UCI) has rejected a request to let the Court of Arbitration for Sport (Cas) decide if current chief Pat McQuaid should be allowed to stand for re-election.
The UCI says its executive board "ruled unanimously" that national cycling federations should make the decision at their annual congress instead.
McQuaid says he has valid nominations to stand from Thailand and Morocco.
He had earlier failed to be nominated by his "home" federation of Ireland.
A subsequent attempt to gain the support of the Swiss, his federation by residence, also ended in embarrassment.
The suggestion of pre-election arbitration was made to avoid the prospect of legal action in the wake of this month's election in Florence.
The request came from USA Cycling, with the backing of the Algerian, Canadian, Finnish and Russian federations.
McQuaid's challenger, Briton Brian Cookson, did not sign the letter calling for CAS intervention, but has voiced his support for it.
Irishman McQuaid absented himself from the vote taken by the UCI executive board over the matter.