Tour de France 2013: Emma Pooley wants dual women's event
Last updated on .From the section Cycling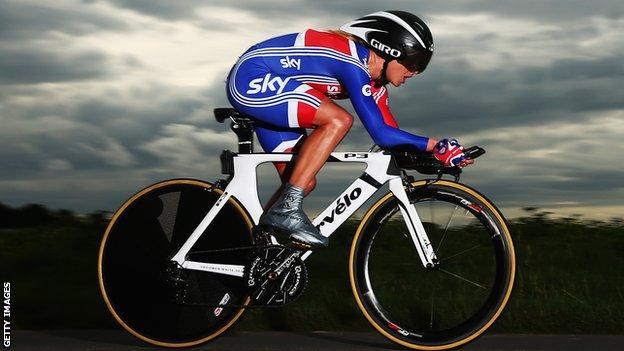 Former World Time Trial champion Emma Pooley has launched a campaign for the return of a women's Tour de France.
It is four years since it last took place, but the 2008 Olympic silver medallist wants a new event that would run alongside the men's Tour.
"Running a women's Tour alongside the men would really bring cycling on, it's obvious to me," she told BBC Radio 4.
"It's already such a huge logistical operation, adding 50 female cyclists wouldn't be a problem." said Pooley.
"In fact the only argument I've heard that makes any sense is that there might not be enough hotel rooms."
Pooley, 29, who was raised in Norfolk, has previously been an outspoken critic of the lack of coverage of women's cycling.
The campaign was initially started as a documentary on the world of women's professional cycling entitled 'Half the road' but has now switched focus to the rebirth of a female Tour de France.
"There used to be the 'Tour de France Feminin' in the 1980s that was two weeks long, with proper mountain stages, but it eventually fizzled out because of a lack of sponsorship," she continued.
"It came back in the 1990s but the men's Tour actually sued them for trademark breaches so it became the 'Grande Boucle', which lost them even more support.
"The last time the sort of daughter race took place was 2009 and it's a real opportunity missed. We saw in the UK last year that there's the same Olympic events for women as there are for men and there was huge interest."
Cycling's governing body, the Union Cycliste Internationale, currently has rules in place that limit the distance woman can ride in a single stage to much less than men.
It means a female Tour alongside the current event would not be possible unless they started or finished stages in different places.
"I think that's based on old-fashioned sexism, to be honest," added Pooley.
"Women play fewer sets at Wimbledon, but it doesn't mean no-one wants to watch.
"For the spectators it would be great. They wait around for hours and the riders are gone in a flash, so instead they'd get to see two races."