Tour de France: Mark Cavendish has urine thrown at him

By Matt Slater
BBC sports news reporter at the Tour de France
Last updated on .From the section Cycling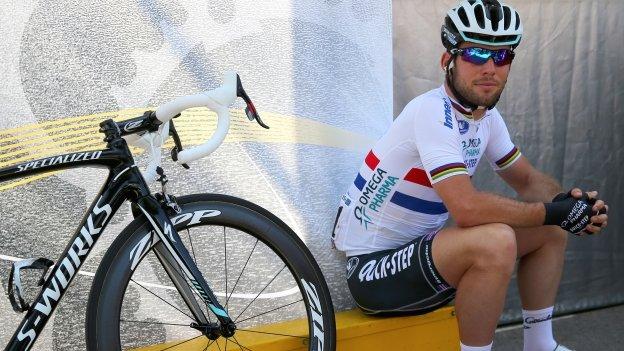 A spectator has thrown urine at Mark Cavendish while he was competing in the Tour de France.
It happened on stage 11 during the 33km time trial from Avranches to Mont Saint Michel on Wednesday.
The liquid was thrown from a bottle with the 28-year-old Cavendish initially thinking it was water before realising what it was from the taste.
Cavendish is said to be "saddened" by the incident, but he has yet to discuss it in public.
It is not known whether the Manxman, who also heard boos and jeers during his ride, was targeted deliberately.
But Wednesday's incident comes just a day after he was caught up in a controversial moment towards the end of stage 10.
As the Omega Pharma-QuickStep rider tried to contest the sprint finish, he collided with Dutchman Tom Veelers who was sent crashing to the ground by the impact.
Cavendish was cleared of any blame by race organisers and called Veelers to say he would never knock him off on purpose.
But Veelers, who rides for the Argos Shimano team, is understood to have rebuffed this approach and requested an apology in person.
Team-mate Jerome Pineau said Cavendish was whistled by spectators on the morning of Wednesday's stage.
"Yesterday I was so proud about the support but today I am ashamed," wrote Frenchman Pineau on Twitter.
"Ashamed when my friend Mark Cavendish tells me he has been whistled and even sprayed with urine on the course. It's scandalous."
Omega Pharma-QuickStep boss Patrick Lefevere said that other riders had told him that "some spectators were not very pleased with what happened yesterday" and had "yelled" at Cavendish.
"I regret this, I always felt that cycling fans were gentlemen, enthusiastic people," said Belgian Lefevere.
"Mark is sad, he's not upset, just sad. I cannot blame anyone. There are 100,000 or 200,000 people on the road, and one person decided to do this.
"He can maybe have a handshake tomorrow morning with Tom Veelers if he agrees with this. This case has to be closed."
Cavendish was among the early runners in the time trial and set a time of exactly 42 minutes.
However, his team-mate Tony Martin, the world time trial champion, won after completing the course in 36 minutes 29 seconds.
Britain's Chris Froome retains the yellow jersey and has extended his overall lead to three minutes 25 seconds over Spain's Alejandro Valverde.
Froome was disappointed to learn about the incident involving Cavendish, and felt the spectator responsible let the sport down.
"It's one of the beauties of our sport that anyone can come and watch and anyone can get into it and enjoy the excitement, and really get up close to the top riders in the world," said Froome.
"Mark's one of the big characters in the sport, some people love him, some hate him, but to do something disrespectful like that is really sad.
"It ruins the whole atmosphere for the spectators coming to the sport. One individual doing that just leaves a bit of a bad taste in the mouth. And a bad taste in Mark's mouth."