Tour de France can now be won drug-free, says Pat McQuaid
Last updated on .From the section Cycling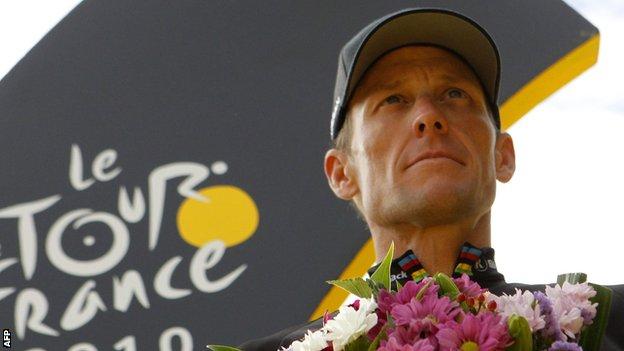 UCI President Pat McQuaid says the Tour de France can now be won without drugs.
Armstrong, who doped his way to seven Tour wins between 1999-2005, told the French paper the race was impossible to win without taking drugs in that era.
"The culture within cycling has changed since the Armstrong era and it is now possible to race and win clean," said the head of cycling's governing body.
"Cycling today has the most sophisticated anti-doping infrastructure in sport.
"We will never turn back - and my work to ensure that we have a clean sport is unrelenting."
The comments come on the eve of the 2013 Tour, which begins on Saturday in Porto-Vecchio and runs until 21 July.
"Cycling today has the most sophisticated anti-doping infrastructure in sport," added McQuaid.
"Measures such as the introduction of the blood passport, the whereabouts system and the 'no-needle' policy are the backbone of our relentless fight against doping."
Armstrong was stripped of his seven Tour de France titles by cycling's governing body in October and banned for life.
The United States Anti-Doping Agency called it "the most sophisticated, professionalised and successful doping programme that sport has ever seen", and the American publicly admitted to doping during an interview with Oprah Winfrey in January.
Armstrong took performance-enhancing drugs Erythropoietin (EPO), testosterone, cortisone and human growth hormone as well as having blood transfusions.
"Armstrong's views and opinions are shaped by his own behaviour and time in the peloton - cycling has now moved on," said McQuaid.
German Jan Ullrich, who won the Tour in 1997, has recently confessed to doping, while 1996 Danish winner Bjarne Riis waited 11 years before admitting using EPO during his career.