Brian Cookson accuses Pat McQuaid of "bullying style"
Last updated on .From the section Cycling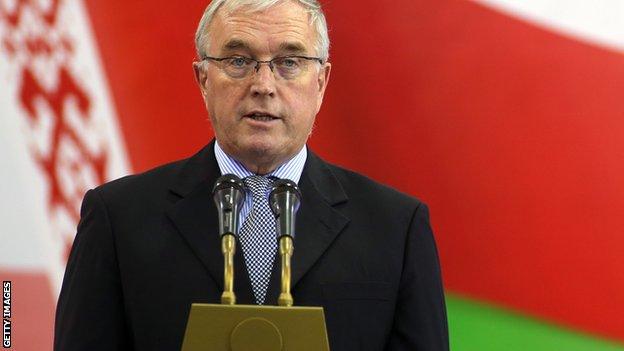 Brian Cookson has accused Pat McQuaid of possessing a "bullying and haranguing style" as the battle for the presidency of the International Cycling Union (UCI) intensifies.
The current president of British Cycling is challenging incumbent McQuaid in the September elections.
Irishman McQuaid had labelled Cookson's election manifesto "half baked".
But Cookson said McQuaid's words were a "reminder of the counter-productive feuds in which he has engaged".
"The response from Pat McQuaid to my manifesto has once again demonstrated exactly why restoring credibility to the UCI and cycling in general was the number one recommendation of the recent Deloitte consultation with the sport's stakeholders," he added.
"His bullying and haranguing style seems designed to antagonise everyone who does not share his approach to the governance of world cycling."
Cookson's candidacy is based on restoring credibility in the UCI after the Lance Armstrong doping scandal.
Several pledges have been made by Cookson, with anti-doping at the top of the agenda.
"As we enter the next stage of the presidential election, it is clear that the choice that has to be made is between two different approaches to the work of the UCI and two different visions for our sport," Cookson added.
"I believe in a path based on credibility, trust and change and not one littered with a seemingly endless round of doubts and discrepancies where relations with important stakeholders are conducted by press release and punctuated by legal letters.
"I continue to hope the presidential contest can be one in which cycling can take pride."
Cookson is so far the only person to challenge McQuaid's leadership as the Irishman, who has been UCI president since 2005, seeks to be elected for a third term.
Cycling Ireland's clubs voted against McQuaid but he could still be nominated because he now lives in Switzerland, whose association said it would back him.