Brian Cookson makes UCI anti-doping election pledge
Last updated on .From the section Cycling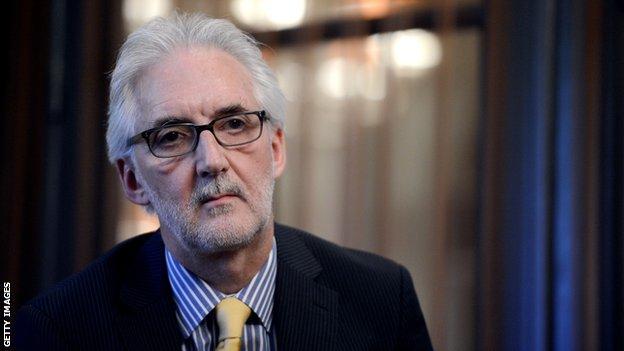 Brian Cookson is pledging to establish an independent body to manage anti-doping if he is elected president of the International Cycling Union (UCI).
The current president of British Cycling is challenging incumbent Pat McQuaid in the September elections.
Cookson's candidacy is based on restoring credibility in the UCI after the Lance Armstrong doping scandal.
"The most important challenge for the next president is to address the way cycling deals with doping," he said.
McQuaid responded with a statement saying: "Brian Cookson's election manifesto is half baked, fundamentally flawed and financially impractical."
He claims there is "nothing new" in the anti-doping proposals and that more explanation is required on how they can be implemented.
The UCI was damaged by allegations it did not do enough to catch Armstrong, who was stripped of his seven Tour de France titles last year.
"The reality is that the UCI is not trusted, our anti-doping is not seen to be independent and we don't have the trust of the World Anti-doping Agency (Wada) and the other key anti-doping agencies," Cookson, 62, added.
"At the moment, the anti-doping service within the UCI headquarters is just down the corridor of the president's office so that can't be right.
"If elected president, I would rapidly establish a completely independent anti-doping unit, in co-operation with Wada.
"It will be managed and governed outside of the UCI so people can have absolute confidence in our sport."
As well as rebuilding trust, tackling anti-doping and growing cycling globally, Cookson is promising to develop women's cycling, overhaul road racing and strengthen the sport's credibility within the Olympic Movement.
McQuaid, 63, is seeking a third term as president of the organisation that was formed in 1900.