Tour de France 2013: Geraint Thomas on riding for Chris Froome

By Geraint Thomas
Double Olympic pursuit champion and Team Sky rider
Last updated on .From the section Cycling43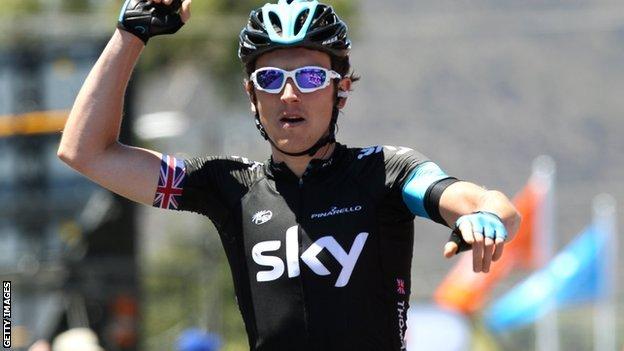 Britain's Olympic track champion and Team Sky cyclist Geraint Thomas expects "carnage" in Corsica on his return to the Tour de France, as he tries to help Chris Froome win the 100th edition of the race. The Welshman also talks about his own Tour ambitions in his latest column for BBC Sport.
There is just no other race like the Tour de France. Every day is like a world championships because everyone wants to ride the Tour, and then everyone who rides in the Tour wants to win a stage.
It is now just a matter of days left until the start, and I cannot wait. From a personal point of view, it is great to be back!
I missed out last year to concentrate on the team pursuit on the track at the London Olympics and, with Sir Bradley Wiggins making history by becoming the first British winner, it was a massive year for Team Sky.
I don't regret missing it - I did win an Olympic gold after all - but at the same time, it would have been awesome to have been at the Tour and part of Brad's success. That has made me more hungry to get stuck in again now and hopefully get the same result for Chris Froome.
The last few days, I have been training with Chris and Richie Porte in Monaco, where I have had a place since the start of the year. I took delivery of a load of flat pack furniture at the end of last week but it will be down to my girlfriend to put that together - I am not going to have the time for a while!
On Friday, Chris, Richie and I had a go on the team time trial course in Nice that will be used on stage four of the Tour, but more on that later.
Saturday was an easier day which fell nicely because I was able to watch the British & Irish Lions against Australia on TV. On Sunday and Monday we did some climbing in the hills and since then it has been about winding down - recovering and resting up, although we still did a couple of long four-hour rides.
On Wednesday night we travel to Corsica, which is where the race starts this year. Then I have got my medical and the Tour presentation - I don't really get much time to ride my bike. After that, it is pretty much feet up - I will do as little as possible until Saturday morning, when the Tour kicks off.
MAKING THE TEAM
I found out I was on the Sky team the night before it was announced publicly.
With the way the Criterium du Dauphine had gone earlier this month, I was pretty confident I would get a ride but you never know for certain until you are told.
The team principal Dave Brailsford and the team directors, who make the decision, had a conference call in the morning and then each rider was called individually.
Dave called the guys that weren't chosen first and, once he had done that, Nico Portal rang everyone who was in.
It was a relief to find out I had made it - a lot of good riders have missed out, like Bernie Eisel with all his experience and Christian Knees, who has done a great job for Brad in the Grand Tours in the last couple of years.
Rigoberto Uran was in with a shout as well and he finished second in the Giro d'Italia so that just shows how hard it was to make the cut.
I think the squad we are taking is strong enough to give Chris the support he will need. It is essentially the same one that went to the Dauphine, plus Kanstantsin Siutsou. We showed there that we could ride really strongly as a unit.
The key thing is the versatility of the riders. We have got good riders in all the areas that we need, in the mountains and on the flat.
I hadn't raced much with Froomey as the team leader before Dauphine but he was pretty chilled and just liked to get stuck into the racing.
Personality-wise, he is different to Brad, who wears his heart on his sleeve a lot of the time and, depending how he is feeling, that comes across in his emotions.
But both of them tell us what they want from us on the day. They make it clear and, for a support rider like me, being honest is the main thing.
CARNAGE IN CORSICA?
There is no prologue to decide the race order at the start of the Tour this year - and I think it is going to be carnage!
All 198 riders are going to be on that start line on day one knowing they have got a chance of taking the yellow jersey, which is a once in a lifetime chance for most of them, so it is going to be one heck of an opening stage.
The roads in Corsica are very narrow and are up, down, left and right the whole time.
In the past I would have relished those stages but I see them differently now. I am thinking about Froomey and protecting him.
From that point of view, it is a bit of a nightmare of a start because a lot can go wrong.
TEAM TIME TRIAL
I think the race will settle down a bit once we leave Corsica and after the team time trial in Nice on day four.
That is a stage I am definitely looking forward to because of my team pursuit background and it is a chance for everyone on the team to really go for the stage win.
We get a lot of satisfaction when Froomey wins a stage or is doing well overall but in the team time trial we get to go on the podium as well if we are fastest, and that is an extra special feeling.
We have got a decent chance of winning it too. I don't think the course is too technical. There are a few corners near the start in Nice but then it is out on the main roads.
So I think it will be close. When we last did a team time trial in the Tour, in 2011, I was in the white jersey for the best-placed young rider and came within four seconds of taking yellow.
That day, the first four teams were only separated by six or seven seconds. If the yellow jersey is up for grabs again then I think we could be in for a great little race this time too.
PERSONAL AMBITIONS
I was talking with Chris and Richie last week about the riders who are always in the breakaways and going for stage wins in the Tour.
We were saying that, in Sky, we rarely get anyone in the breaks because we have always got a guy who is a contender in the General Classification, and we have always got to protect him and look to control the race from that point of view.
I am sure there will still be one or two stages where opportunities will come my way. If they do, I would love to try to take them.
But the priority is always to support Chris and go for the overall win. If I don't do anything individually at this Tour and Chris wins it, then that would be the perfect outcome for me.
While I'm racing in the opening week, please use the comments section below to send in any questions on the Tour or cycling in general because I'll be answering as many as I can in my next column on Monday, 8 July - the first rest day of the race.