Tour de France 2013: Jens Voigt on getting to Paris unscathed
Last updated on .From the section Cycling50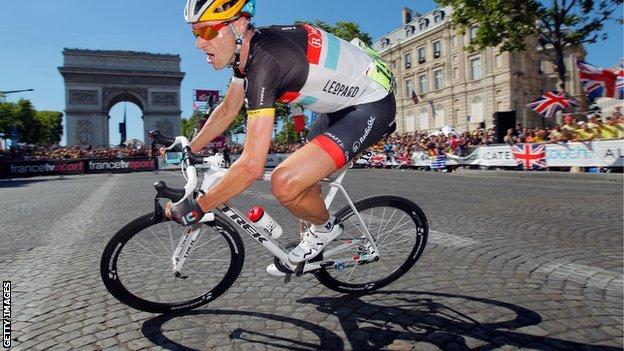 For any man to still be competing in his sport's toughest event into his fifth decade is not just rare, it is extraordinary.
Jens Voigt first raced in the Tour de France in 1998 and will start his 16th - and likely last - Tour on Saturday.
Even if it is to be his final Tour, this is no sentimental selection by his team, the Luxembourg-based outfit RadioShack Leopard Trek, as 41-year-old Voigt is not just the oldest man in the peloton, he is probably the hardest too.
Voigt has never come close to winning the Tour, but the German knows how to survive the three-week race better than almost anyone else. Out of 15 starts, he's reached the finish in Paris 12 times.
Of the 197 other riders who will start this year's 100th Tour in Corsica, only one has more knowledge of the world's toughest cycle race: Australia's Stuart O'Grady, who is competing for the 17th time to equal the record George Hincapie set last year when, like O'Grady, he was 39.
Since the first Tour in 1903, only 20 other men have managed to make the start aged 40 or over, and Voigt is the oldest since Portugal's Joaquim Agostinho, who finished 11th in 1983 at the age of 41.
Down the years, his physical fortitude - coupled with a relentlessly positive attitude - has helped turn him into cycling's biggest cult hero.
Voigt has spawned a tribute website - modelled on one for American actor and martial artist Chuck Norris - that lists supposed 'facts' testifying to his strength and courage, such as: "You are what you eat. Jens Voigt eats spring steel for breakfast, fire for lunch and a mixture of titanium and carbon fibre for dinner."
He actually prefers to consume vast quantities of pasta and coffee, which seem to work just as well. Voigt estimates he has ridden around 820,000km (or 510,000 miles) since he began racing competitively aged 10. That is enough to cycle around the world 20 times and he is not planning to stop any time soon.
You might be forgiven for asking 'why?' since there is no glittering individual prize at stake. Voigt has 66 victories as a professional and was once the world's top amateur but, even at his peak, he did not have the climbing capabilities to challenge for overall victory in the world's biggest stage races, such as the 3,360km three-week long Tour.
Instead, he became a formidable support rider or, to use Tour terminology, a super-domestique.
But he is no racing robot. Voigt is known for his daring breakaway attacks in search of stage wins and is proud of his anti-doping stance during decades when his sport has been tainted by scandal.
As Britain's Sir Bradley Wiggins found out last year, when he was repeatedly questioned about whether he was doping on his way to winning the Tour, we still live in an era when some people assume cyclists are guilty just because they are successful. Voigt has dealt with that during his entire career.
Born in the former East Germany, he was fast-tracked into state training schemes as a boy and is one of the last products of that regime's vast sports programme. But he says he never came under pressure to take substances during that time: "I was either too young, or not good enough. But there was no dope."
The Berlin Wall came down when he was 18, giving him opportunities to succeed in the West. But, after a stint in the army, mostly spent with an elite sporting unit, his cycling career took off at the same time that doping clouds started to gather over the Tour, first with the Festina Affair that almost destroyed the 1998 race and then with Lance Armstrong's now discredited string of seven successive victories.
"I am not an idiot, I know a lot of riders my age have been involved in doping and have been caught," Voigt told BBC Sport.
"People come to me and say 'listen Jens, it is hard for us to believe. This rider was as good as you and he has been caught. You are almost the only clean one left'.
"Because of that, it seems logical to them that I have been doping. It is hard to keep defending myself because I don't seem to be able to prove my innocence. I am just a hard-working guy and, yes, I have talent. Does it really make me suspicious?
"The one thing that stops me from letting that poison my mind are the people that really count - my family and close friends. They know I am clean.
"Cycling has made mistakes in the past but now the quality of controls is so good, it is impossible to use drugs and get away with it. It is never a pleasant moment when someone is caught, but it shows the tests are working and we keep catching the bad riders.
"I believe this year's Tour will be clean but of course you cannot control every single individual. I try to lead by example and not do any funny stuff. Everything I have won, I earned it.
"I hope I am allowed to say that the reason I am popular is because of the way I am, the way I race and the way I talk. I am just the old-fashioned, reliable guy and people always know I am after one thing: 'There is Jens. He will go in the breakaway'."
Indeed, the way he talks has become another Voigt trademark. His colourful post-race quotes, such as his catchphrase of 'shut up legs', chart his ongoing battle with his body. One that he knows he cannot keep fighting forever.
"It is the passion inside me that means I keep going," Voigt added. "I love what I do and I think I am lucky to do it. When I am riding a quiet country road, I hear the birds singing and think 'I am in my office now'.
"I can still do my job and be a valuable team member, but it is getting harder. The winter in Germany was long and hard and cold with ice and rain; I came out of it lacking the training miles I needed to put into my legs for this season.
"But I have a wife and six kids at home in Berlin and I cannot just say 'hey honey, listen I am going somewhere warm for a month to train, you all stay here where it is minus 10'.
"I am a family man and I have to find my priorities. During the season it is to race, during the off-season it is to spend time with my family."
His priority over the next few weeks is to get himself and his team leader, 2010 Tour de France winner Andy Schleck, to Paris on 21 July.
In previous years that would preferably be in yellow or, if not, on the podium. Schleck's problems since breaking his pelvis last year means expectations are lower this time, but even the basic target of finishing the race is a lot easier said than done.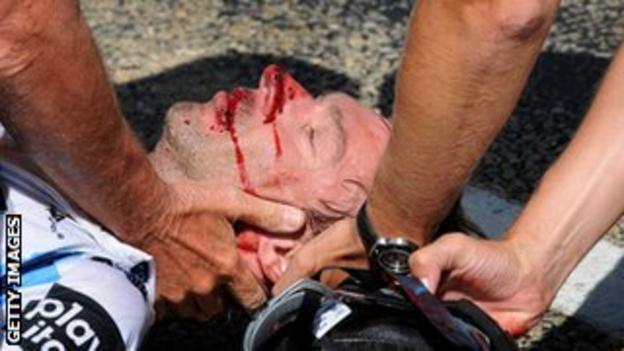 "When I get to the Champs Elysees, I always let out a big sigh of relief," says Voigt, who crashed out of the 2009 Tour with a broken orbital bone under his eye which he sustained by sliding 20m down the road on his face.
"Crashing is never funny but sometimes you can jump up, laugh at your stupidity and go 'what the hell was that'," Voigt said. "But that one in 2009 was serious, because I was unconscious, then strapped to a board and airlifted to hospital.
"I still don't know how it happened. But you work hard all year long to be in top shape for the Tour. Then, in an instant, you are out."
Then there are the mountains. Riders have to negotiate a series of fearsome peaks in the Alps and Pyrenees. "I know most of them personally now," says Voigt.
"I see the Madeleine, Tourmalet and Galibier and say 'oh hello, you again?'. I know they are hard but I also know they have an end somewhere and that somehow I am going to reach the top.
"I tell my legs 'just one more hairpin and then we will slow down' but then I reach the next one and tell them the same again. Sometimes I am done - I would not be able to pull the skin off a custard - but my motto is to never give up."
Playing tricks on his body has helped him finish 12 of his 15 Tours so far, but there have also been plenty of unexpected hazards along the way.
In 2010, Voigt had another crash that left him with blood flooding out of a hole in his elbow and smashed the frame of his bike. He refused to get in the "broom wagon", the bus that sweeps up riders forced to abandon the race and, to continue, borrowed a small yellow child's bike which he says made him look like "a bear riding a circus bicycle".
At the finish line he told Danish TV: "The only place I feel good is my right ankle. The rest of me is all road rash. I have had better days but I am still alive, so it is better than last year."
He describes it as his craziest day on a bike, but it is all just part of the madness of the Tour. "Just to get to the finish in one piece is a spectacular achievement," Voigt added.
"There are days where you are flying downhill in the rain at more than 70km per hour with just a helmet for protection, and then going uphill with a heart-rate of close to 200 bpm for an hour. When you are not on your bike, you live like a monk for three weeks.
"So, in Paris, you are just happy it is all over. You are allowed to be a normal man again and have a beer, have a dance and enjoy the music."