Pat McQuaid: UCI president suffers re-election bid setback
Last updated on .From the section Cycling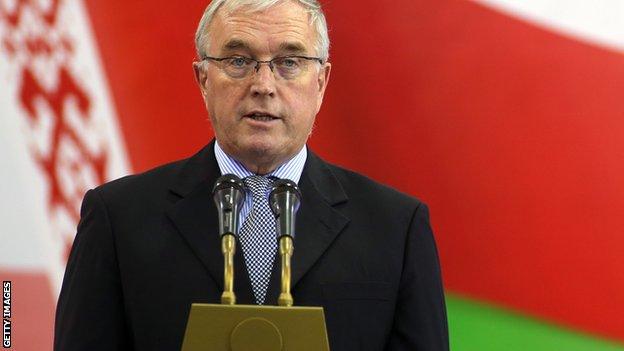 Pat McQuaid's ambition of securing a further term as president of cycling's world governing body, the UCI, has suffered a setback after Cycling Ireland's clubs voted against him.
The Irishman, 63, lost by 91 votes to 74 but could still be nominated because he now lives in Switzerland, whose association said it would back him.
McQuaid is opposed by head of British Cycling Brian Cookson, who is a member of the UCI's management committee.
The election takes place in September.
The UCI was implicated in the Lance Armstrong doping scandal by the US Anti-Doping Agency and was criticised by the World Anti-Doping Agency when an independent panel it established to examine its own alleged complicity was disbanded before it could report.
That led to strong criticism of McQuaid, who has been the governing body's president for the last eight years.
He was originally nominated for another term by Cycling Ireland only for the Irish body to then reconsider its decision at an extraordinary general meeting in Dublin.