Hannah Barnes reinstated as winner of London Nocturne
Last updated on .From the section Cycling36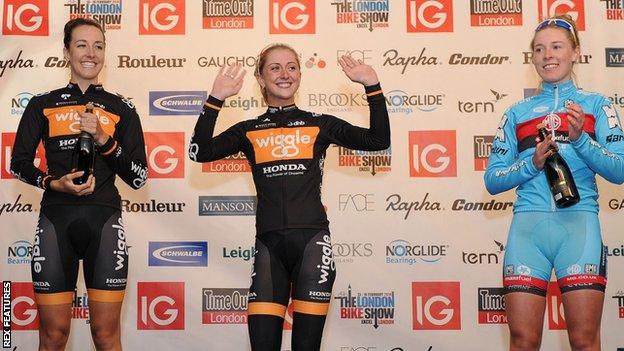 Hannah Barnes has been reinstated as winner of the IG London Nocturne, following a review by British Cycling.
"Officials have reviewed the sanction imposed on Hannah Barnes. The sanction has been moderated from relegation to a reprimand," said a statement.
Trott earlier admitted she should not have been awarded the victory.
She took to Twitter on Saturday to tell followers: "Having seen the video, Hannah won fair and square. Fair play to her."
She added: "When myself and Hannah crossed the line it was tight and my transponder picked up first. That is why I was called the winner, before the photo finish was checked.
"That's bike racing for you! Can't win them all. Now I think it's time to put that one behind us and continue growing women's cycling."
Barnes also took to Twitter to thank supporters after the decision was reversed: "Huge thank you to everyone for your support.
"Thank you to Laura [Trott] and Wiggle-Honda for a fantastic race and I look forward to racing with you again soon.
"And also to the commissaries and organisers for revising the decision. It's such an enjoyable race and the atmosphere is always electric!"
Barnes had earlier described the decision to deny her victory for contesting the sprint dangerously as "crazy".
Organisers issued a statement several days after the race confirming Barnes did cross the line first, but that she had broken the rules by celebrating while close to riders who were being lapped.
"The photo finish shows that I won," she told BBC Sport.
"But there's some kind of regulation that you can't take both arms off handlebars to win, which is crazy because every single cyclist does that when they win a race. I don't think it's over."
A statement from Barnes's team, MG-Maxifuel Pro Cycling, said: "Hannah and the team are truly touched by the huge support they have received from fans everywhere on this matter."
Rochelle Gilmore, Wiggle Honda Pro Cycling team manager, added: "We were delighted with what we understood was a narrow win for Laura Trott, but on discovering that Hannah Barnes had crossed the line first, we felt the decision to relegate her was harsh.
"We totally accept the reversal of this decision and offer our full and sincere congratulations to Hannah for an excellent win."