Hannah Barnes says demotion to second for celebrating is crazy
By Lawrence Barretto
BBC Sport
Last updated on .From the section Cycling58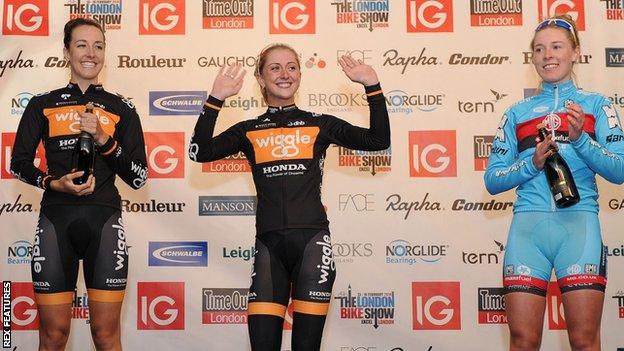 British cyclist Hannah Barnes thinks the decision to deny her victory at the IG London Nocturne for contesting the sprint dangerously is "crazy".
Organisers later admitted Barnes did cross the line first, but she had broken the rules by celebrating while close to riders who were being lapped.
"The photo finish shows that I won," she told BBC Sport.
"But there's some kind of regulation that you can't take both arms off handlebars to win, which is crazy because every single cyclist does that when they win a race. I don't think it's over.
"If it stands that I stay second after taking my hands of the bars then so be it. It's a bit annoying and I'm probably never going to do it again."
Maxifuel Pro Cycling rider Barnes was demoted to second, behind Wiggle Honda Pro Cycling and double Olympic champion Trott.
Organisers pointed to the regulations which give discretion to impose penalties, warnings or fines and that riders "who ride dangerously shall be liable to disqualification".
But Barnes pointed to Sir Bradley Wiggins raising his arms in celebration several metres before he crossed the line in last year's Tour de France to become the first British rider to take the yellow jersey.
"Mark Cavendish and Bradley Wiggins - when they win, they put both arms in the air," she added.
"Wiggins, when he won the yellow jersey, was mid-bunch and he put both arms in the air and that's got to be deemed just as dangerous as what I did."
She added on Twitter: "Has anyone ever been relegated for putting their arms up crossing the line celebrating the win or am I the first?"
Barnes, who has won the IG London Nocturne for the last two years, added that the team are still looking at contesting the decision.
"As far as I know, the team are pursuing it," she said. "I'm not angry at all because it's happened now, there's nothing I can do about it.
"A lot of it is down to me. If I hadn't celebrated before the line, it wouldn't have been that close and I definitely would have won so I'm half to blame."