Laura Trott wins women's elite race at London Nocturne
Last updated on .From the section Cycling42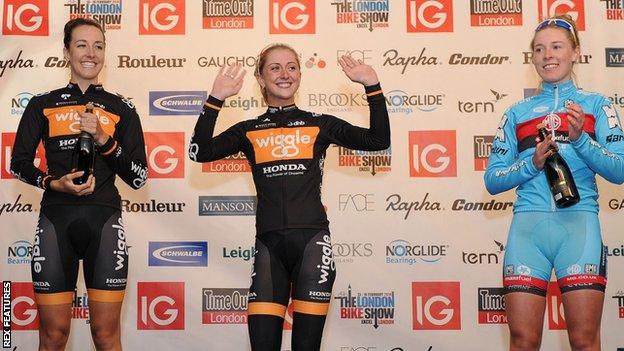 Laura Trott has been awarded a victory for Wiggle Honda Pro Cycling at the IG London Nocturne in what was the British team's first event on home soil.
The 21-year-old finished second in a photo-finish behind Maxifuel Pro Cycling rider Hannah Barnes, who was demoted a place for dangerous riding.
Barnes was punished for taking her hands off the handlebars, while close to riders who were about to be lapped.
Dani King, 22, came third, while Tom Scully won the men's race.
The Team Raleigh rider narrowly beat Movistar's Alex Dowsett - who took a time trial victory at last month's Giro d'Italia - on the line in a tight finish that saw Dean Downing (Madison Genesis) come third.
The event was held on a specially constructed 1.1km track at London's Smithfield Market, with the women's event lasting 30 minutes plus five laps and the men's 50 minutes plus five laps.
There had been confusion surrounding the result of the women's race, but a statement released later by event organisers FACE Partnership clarified the situation regarding Barnes's demotion.
She had been aiming for her third title in three years after winning the event in 2012 and 2011.