Joanna Rowsell wants end to 'massive imbalance' in road racing

By Nick Hope
BBC Olympic sports reporter
Last updated on .From the section Cycling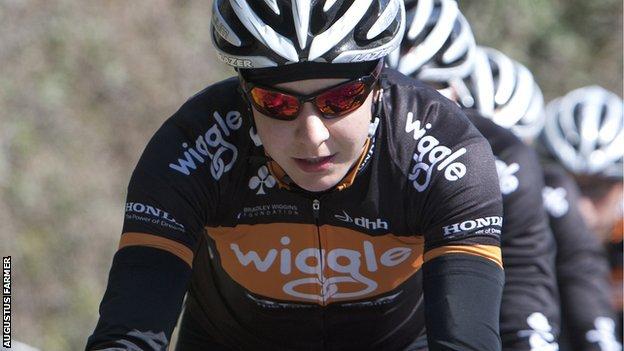 Olympic track champion Joanna Rowsell says women's road racing will only have equality with the men's side of the sport if events are run together.
They compete in the IG London Nocturne on Saturday, one of the few events with both men's and women's races.
"It's the best way for women's racing to progress," said Rowsell, 24.
"The races that I've done this year with the biggest crowds have been the ones that have been run alongside men's versions.
"It's fantastic for us because people are not just sitting there waiting for the men's races, they're actually getting behind us and cheering our names. The more races that can be run like that the better."
Rowsell is using 2013 as a "test year" by competing on the track and road.
She added: "In track cycling we get equal coverage to the men but the road has always been a massive imbalance.
"We need to showcase women's racing more and show how exciting it is because it's shorter than men's racing and faster. I think people can enjoy it when they get the opportunity."
There will be a Giro Rosa held in Italy from 30 June to 7 July, a women's equivalent of the Giro d'Italia, won last month by Vincenzo Nibali.
But asked if cycling's international governing body, the UCI, could do more, Rowsell replied: "Yes, probably.
"A Tour de France in the future would be awesome and I think that would be a positive step, but logistically it's hard to know how it would work.
"Even though it's not being held at the same time as the men's event, having a women's Giro is obviously very prestigious and hopefully there will be a women's Tour of Britain next year."
Her views are backed by team-mate Trott, who in addition to her Olympic title in the team pursuit also claimed individual omnium gold in 2012.
The 21-year-old is also looking forward to racing in London for the first time since last year's success.
"In terms of track and sponsors it's almost that women are actually higher than the men, but on the road we're still catching up," said Trott, who has helped the Sir Bradley Wiggins-backed British Wiggle-Honda team to an impressive 22 race victories since their launch in January.
"This weekend is a great opportunity," Trott told BBC Sport. In London, I think we can win, maybe even get a one, two, three - you never know."