Alex Dowsett angered by Danilo Di Luca inclusion at Giro
Last updated on .From the section Cycling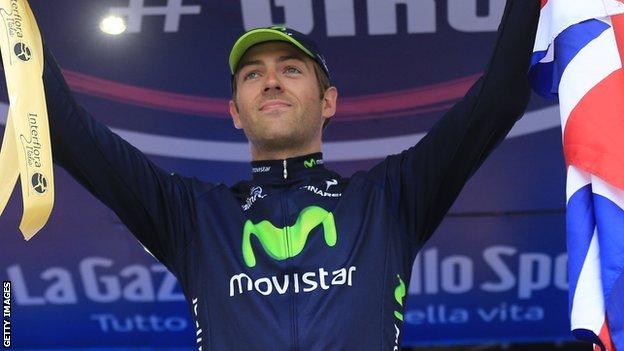 Britain's Alex Dowsett has said suspended Danilo Di Luca should never have been allowed to ride in this year's Giro d'Italia and has echoed
The Italian faces the third ban of his career after
Dowsett, who rides for Spanish team Movistar, told BBC Essex: "Di Luca should never have been in the race from the start.
"Why they don't introduce lifetime bans is beyond me."
Di Luca was sacked by his Vini Fantini-Selle team after 17 stages of this month's Giro, which was won by Vincenzo Nibali, after it was confirmed he failed an out-of-competition test carried out at his home in April.
The 37-year-old has been suspended from racing, pending the result of a B sample, and now faces a lifetime ban as it is his third offence.
He previously received a three-month suspension after winning the 2007 Giro for seeing a banned doctor and a two-year ban for a failed test at the 2009 Giro, which was subsequently reduced by nine months after he collaborated with Italian anti-doping authorities.
Dowsett, who won has backed the stance of six-time Olympic gold medallist Hoy by calling for lifetime bans for any serious doping offence.
"They would maybe think twice before they take that risk. If someone my age got done [at the moment], they could be back at 27," said the 24-year-old from Maldon.
"You don't peak in cycling until, well, look at Wiggins, he's 33.
"It's ridiculous. When it's black and white that they've cheated they shouldn't be let back in."
Di Luca was one of two riders removed from the Giro, along with Frenchman Sylvain Georges, 29,
Dowsett added: "It's such a shame because we've got this small minority making us all look bad.
"It's a sad state of affairs and it's made such huge press in cycling. I felt sorry for Nibali because it takes something away from his win and he worked hard for that."