Sir Chris Hoy voices Olympic concerns for independent Scotland
Last updated on .From the section Cycling93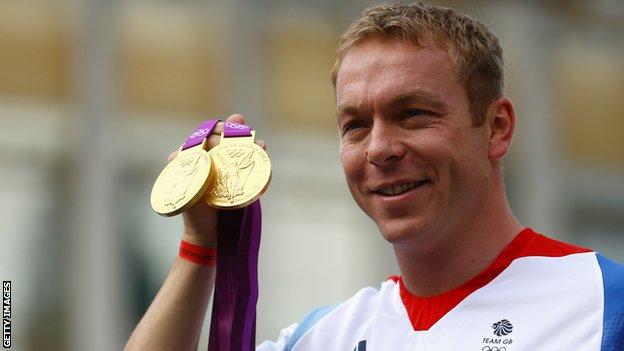 Scots could find it harder to compete at Olympic level if the country were independent, Sir Chris Hoy has warned.
The six-time Olympic cycling champion did not say which way he would vote in next year's referendum but expressed concerns at the lack of first-rate facilities in his native Scotland.
"It would be harder initially to establish themselves in a new training environment," said the 37-year-old.
"It's not to say it's impossible but it would just be a different challenge."
Hoy said he has decided which way he will be voting in the 2014 referendum on Scottish independence and revealed that he had rejected "indirect approaches" from both sides in the debate, telling BBC Radio 5 live he does not want to get involved in a "hornet's nest".
"I don't want to get drawn into it," he explained.
"I've said numerous times how proud I am to be Scottish and how proud I have been to compete for Britain too and I don't think these two things necessarily have to be mutually exclusive."
Asked whether he knew what he would vote for, Hoy said: "I suppose I do, yeah."
On the prospect of having a separate Olympic team in an independent Scotland, he continued: "You look at the results of the Scottish athletes over the years and we have had some fantastic athletes and some fantastic results.
"But it would not be quite as simple as just saying, 'there is a Scottish athlete, they have won a gold medal, therefore that's a medal for Scotland'. Most of the athletes have had to move to facilities which are often outwith Scotland.
"I had to move down to Manchester because there was not an indoor facility in Scotland. I went to Manchester, trained with the British team and benefited from that.
"The first thing you have to do if you're really serious about it is you have to provide the facilities and the coaching infrastructure.
"In Scotland, we have the Institute of Sport and SportScotland there to try to give support to the athletes.
"There is support, but it is not quite as simple as saying 'we had x number of medallists from these Games, therefore that will translate into the same medals next time'."
Hoy was selected as the flag-bearer for Team GB at London 2012's opening ceremony and won two gold medals on the track, making him Britain's most successful Olympian.
A velodrome named after him has since opened in Glasgow, the host city for the 2014 Commonwealth Games, but he will not compete next year, having announced his retirement in April.
Hoy plans to assist the Scottish Commonwealth Games team in a mentoring role.