Tour de France owner admits interest in Tour of Britain

By Matt Slater
BBC sports news reporter
Last updated on .From the section Cycling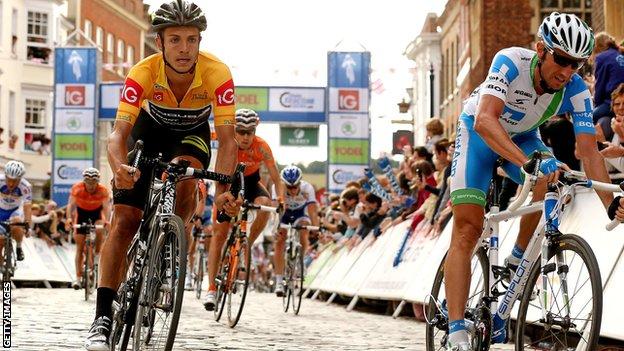 The owner of the Tour de France, Amaury Sport Organisation (ASO), has finally confirmed it is interested in running the Tour of Britain.
The British race has been organised by SweetSpot since its return in 2004.
But in December, the sport's governing body British Cycling announced it would put the contract out to open tender.
"It's something we're looking into right now but I can't say too much about it," ASO president Jean-Etienne Amaury told the BBC.
"But if we can make it into something even more compelling for TV and spectators then we'd go for it."
Amaury was speaking on Thursday at Welcome to Yorkshire's annual tourism conference in Leeds, the city which hosts the start of the Tour de France in 2014.
Later that day, the route for the 2013 Tour of Britain, the last year of Surrey-based events company SweetSpot's current contract, was announced to considerable acclaim from cycling fans around the country.
This September's race promises to be the biggest and best yet, with riders covering 700 miles from Peebles to London, via Wales, in eight days.
Amongst the innovations added this year by race director Mick Bennett are: a 16km time-trial in Knowsley Safari Park and a hill-top finish in Dartmoor.
SweetSpot has already voiced its disappointment at British Cycling's decision to put the contract up for tender, pointing out how far the race has come since its revival in 2004.
But the sport's national governing body is determined to explore different options for raising the Tour of Britain's profile at a time when domestic cycling has never been stronger.
Brian Cookson, British Cycling's president, explained December's decision by saying he wanted to a take a "fresh look" at how the event could be developed to "reflect the current status of our sport in this country".
"SweetSpot has nurtured and developed the event over recent years, and we thank them for that. But the time is right now to assess all options," he added.
As organisers of the world's biggest bike race, as well as events such as the hallowed Paris-Roubaix one-day race and Spain's grand tour, the Vuelta, ASO would certainly add prestige to the Tour of Britain.
Whether the French-based company would devote as much attention to it as SweetSpot does, or understand the challenges of staging a bike race in Britain as well as a home-based company can, is open to debate. But there is no doubting its technical expertise, or its commitment to new markets.
Next year's Grand Depart in Leeds, with two stages in Yorkshire and a third between Cambridge and London, will be the Tour's fourth visit to England, including a hugely successful 2007 Grand Depart in London.
"In recent years we have helped the Tour of California, the Tour of Beijing and races in the Middle East, so we've been fostering the globalisation of cycling," said Amaury.
ASO is not the only big continental player believed to be interested in the Tour of Britain, as Italian rival RCS Sport is another option: its marquee race, the Giro d'Italia, is also visiting the UK next year with the three-week race starting in Belfast.
A decision on who will run the Tour of Britain in 2014 is expected before this year's race starts in September.