Tour of Britain 2013: Starts in Scotland, finishes in London
Last updated on .From the section Cycling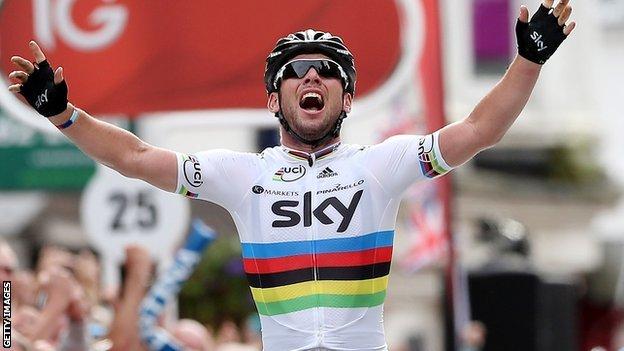 The 2013 Tour of Britain will feature a 10-lap stage in London and a first summit finish for the modern tour as it celebrates its 10th anniversary.
The summit finish comes on the sixth of the eight stages at Haytor on Dartmoor.
Peebles in the Scottish Borders hosts the start on Sunday, 15 September and the race then visits the Lake District, Snowdonia and Devon before finishing in London on 22 September.
Stage three is an individual 10-mile time trial around Knowsley Safari Park.
The race around the Merseyside tourist destination is the longest individual race against the clock in Tour history and comes the day after the riders tackle the longest-ever stage - a 225km (140 miles) race around Cumbria and the Lake District which finishes in Kendal.
Stage five starts in Machynlleth and includes two ascents of Caerphilly Mountain before ending in the Welsh town.
The race will also visit Dumfries & Galloway, Stoke-on-Trent and Surrey.
The race ends in the heart of London as the riders complete 10 circuits around the city before finishing on Whitehall.
"This will definitely be the most challenging Tour of Britain yet," said race director Mick Bennett.
In 2012 Jonathan Tiernan-Locke became Britain's first winner of the modern Tour, which was resurrected in 2004.
Reigning Tour de France winner Sir Bradley Wiggins and sprint specialist Mark Cavendish were among the riders in last year's race.
2013 Tour of Britain route:
Stage One: Sunday, 15 September - Peebles to Drumlanrig Castle (201km)
Stage Two: Monday, 16 September - Carlisle to Kendal (225km)
Stage Three: Tuesday, 17 September - Knowsley Individual Time Trial (16km)
Stage Four: Wednesday, 18 September - Stoke-on-Trent to Llanberis (190.9km)
Stage Five: Thursday, 19 September - Machynlleth to Caerphilly (177.1km)
Stage Six: Friday, 20 September - Sidmouth to Haytor, Dartmoor (137km)
Stage Seven: Saturday, 21 September - Epsom to Guildford (150.4km)
Stage Eight: Sunday, 22 September - The London Stage (88km)