Lance Armstrong: Seven unanswered questions

By Gordon Farquhar
BBC sports news correspondent
Last updated on .From the section Cycling
Lance Armstrong has ended years of denials by admitting he used performance-enhancing drugs during all seven of his Tour de France wins.
The 41-year-old's confession came during his interview with chat show host Oprah Winfrey in front of a worldwide television audience.
But here we look at the seven key points that Armstrong has not properly addressed.
1) Will you now sit down with Usada or Wada and tell them everything you know?
Which other doctors, team leaders and support staff were involved in Armstrong's doping who so far haven't been caught or admitted guilt, and are still working in sport?
Oprah Winfrey asked him this directly but didn't get a straight answer. Armstrong spoke about his willingness to speak to a "truth and reconciliation commission" if that were to become an option. But why wait?
For cycling to move on from this in any way, and for there to be any chance of redemption in the future for Armstrong, there has to be full disclosure.
As long as those connected to doping continue to operate in the sport, the poison will remain. Armstrong couldn't have done this on his own.
2) The Usada report accused you of covering up positive drug tests and trafficking drugs. Did you do that?
He wasn't asked this. But it was one of the more substantial accusations made in Usada's report. Penalties for drug traffickers, and those who coerce others, are more severe under anti-doping rules.
Armstrong is banned for life anyway, so perhaps it doesn't make any difference in his case, but understanding how this conspiracy was made to work is critical.
Admission of trafficking drugs could also be considered a criminal offence. Having effectively admitted he lied under oath in 2005 he ought to be put under oath again, to get to the truth of this.
Armstrong said himself in the interview that when a man with a gun and a badge starts asking the questions it's a whole new ball-game.
3) Why did you pay hundreds of thousands of dollars to the disgraced doctor Michele Ferrari?
Was it for performance-enhancing drugs and associated services?
Ferrari was banned from sport for life following Usada's report into Armstrong but denies all involvement in doping. What's the truth?
Ferrari didn't contest the findings of the Usada report that led to him being banned, but has since continued to claim he did nothing wrong. Would Armstrong testify against him?
4) Why did you decide to come forward now?
Was this motivated by the fact the statute of limitations on prosecution for perjuring himself in 2005 had been reached?
Was it coincidence or calculation? The statute of limitations from 2005 expired at the end of 2012. Here we are in January 2013. He was offered the opportunity to unburden himself to Usada last year but didn't.
5) Were you lying again when you claimed you hadn't doped after 2005?
Armstrong is an accomplished liar. Serious questions remain over the analysis of blood tests taken from Armstrong in 2009 and 2010 following his comeback. Usada says the tests "built a compelling argument consistent with blood doping".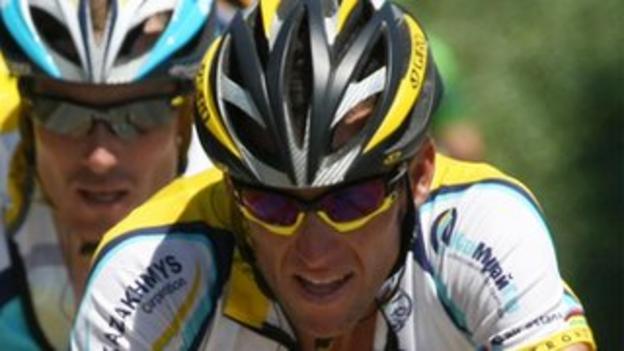 Wada president John Fahey doesn't buy Armstrong's assertion that he was clean during his comeback. Tests were carried out on 38 of his blood samples from that time by the Australian Institute of Sport, which concluded that the chances of the blood values recorded occurring naturally were one in a million. The tests were not part of the recognised anti-doping programme, but Fahey wants Armstrong under oath again on this.
6) Will you put right the financial damage done to others by your actions?
As Armstrong said: "We sued a lot of people." Those people are fighting back. The Sunday Times is seeking around $1.5m (£945,000) after it was forced into an out-of-court settlement in 2004 and had to publish an apology when Armstrong sued over articles questioning his integrity.
A Dallas-based company, SCA Promotions, is looking for the return of $12.5m (£7.8m) in bonus payments made to Armstrong in connection with his tour de France wins. The UCI wants the return of $4m (£2.5m) in prize money. Will he pay up?
What about the clean riders who lost out on legitimate earnings, the sponsors who were lied to? Armstrong made more money from cycling than anyone else, and made Forbes' list of the 50-highest earning sports stars. But it was all built on lies.
Also, did he spitefully use his influence with Trek Cycles to drop its association with Greg LeMond and therefore damage his fellow American's cycle business? LeMond had suggested Armstrong was either the sport's greatest rider or its greatest fraud. Was this another example of Armstrong's bullying?
7) Is the lifetime ban from sport that you have been given reasonable?
Does he seriously think he will, at any point, be welcomed back into competitive sport at any level?
Armstrong began his sporting life as a very promising teenage triathlete. He has competed in mountain bike events and again in triathlon since his road-racing retirement.
If he has any ambition to compete again at all, he will first have to co-operate with Wada and Usada, who might then consider reducing the life ban. But I would guess he'd be closer to his 50s than his 40s by then.
And would you line up against him after what he's done?