Lance Armstrong: Millar dismay at Oprah Winfrey interview
Last updated on .From the section Cycling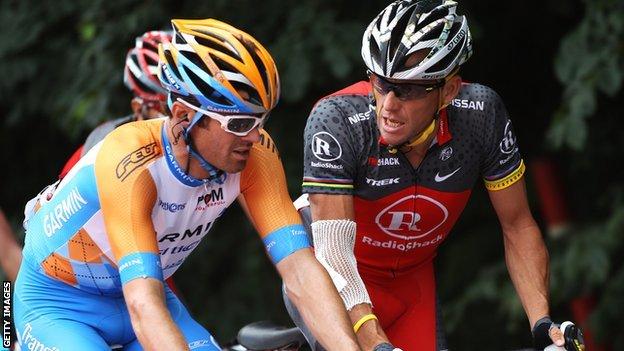 British cyclist David Millar has expressed dismay over what he believes will be Lance Armstrong's "stage-managed" interview with Oprah Winfrey.
"Only Lance would get to have his moment of truth, if that's what it will be, with Oprah Winfrey," said Millar.
However, a spokeswoman for the US talk show said no question was off limits.
Millar continued: "It is not sitting in front of a judge or a disciplinary hearing being properly questioned about the things he has done wrong. I doubt very much it will be a proper interrogation."
The 36-year-old, who served a two-year ban after admitting to doping in 2004, is now a member of the athletes' commission for the World Anti-Doping Agency (Wada).
And the Scotsman fears the interview, which will not be broadcast live, will focus more on Armstrong's emotions than any misdemeanours he might have committed.
Matt DeCanio, a former professional cyclist who voluntarily confessed to using erythropoietin (EPO) and then campaigned against doping, also criticised the platform chosen by Armstrong.
"Oprah Winfrey appeals to the general American public who shops at Wal-Mart, doesn't know up from down or left from right and just wants to hear a feelgood story," the American told BBC Radio 5 live.
"I think he will say that he did what it took to win in the situation in which he was racing. But if he really admits to anything then it is going to pose questions to which people are not ready for the answers to be made public.
"He is basically going to do and say anything that will mean that you can still buy a candy bar with his face on it or a bicycle that he endorses."
Last week, the New York Times reported that Armstrong, 41, was considering publicly admitting that he used performance-enhancing drugs, in an apparent bid to return to competitive sport in marathons and triathlons.