Team Sky make riders and staff sign anti-doping pledge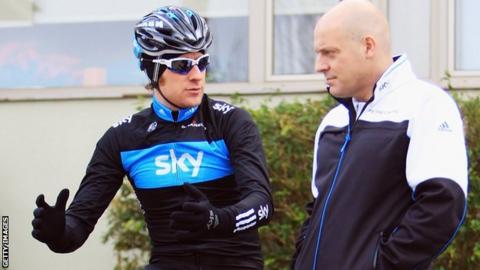 Team Sky has told its riders and management to sign a pledge declaring they have never doped - otherwise they face being thrown off the squad.
The move follows the damaging case of Lance Armstrong, who has been accused of being a serial drugs cheat.
"We will ask everyone to sign up to a written policy, confirming that they have no past or present involvement in doping," said Team Sky.
"Should anyone choose not to sign up, they will have to leave the team."
The team, which includes Tour de France winner Bradley Wiggins, runner-up Chris Froome and top sprinter Mark Cavendish, has always been explicitly anti-doping and says it wants to "reaffirm" its commitment to a clean sport.
Team Sky boss Dave Brailsford informed his charges of the policy on the first day of their end-of-season camp.
He told BBC Radio 5 live: "Given what's happened in the last couple of weeks it's important that we sit down and take this seriously.
"I've worked in Olympic sport for a long time and times have been getting quicker as riders go faster and faster but in the Tour de France times have been getting slower which contrasts with what happens in the normal progression of sport.
"There's only one explanation and it's because the sport has cleaned up.
"We've had a brilliant summer and won the Tour de France clean with a clean British rider but when there are more difficult issues to address let's confront them."
The Team Sky statement continued: "We are making this statement because we believe it is important to be open about the steps we are taking.
"We want a team in which riders are free of the risks of doping and in which fans - new and old - can believe without any doubt or hesitation.
"There is no place in Team Sky for those with an involvement in doping, whether past or present. This applies to management, support staff and riders."
Last week, the United States Anti-Doping Agency (Usada) released a lengthy and detailed report accusing Armstrong and his United States Postal Service team of widespread doping.
It contained sworn statements from 26 witnesses, including 11 former team-mates of Armstrong, who won the Tour de France seven times but has been stripped of his titles by Usada.
Among them was Canadian rider Michael Barry, who spent three seasons with Team Sky before retiring last month after admitting to doping earlier in his career.
Team Sky sports director Sean Yates worked with Armstrong when they were both employed by the Motorola and Astana teams, but has denied any knowledge of doping.
Australian Michael Rogers, a key member of Sky's 2012 Tour-winning team, worked with disgraced doctor Michele Ferrari, who has also been implicated in the Usada report, but also denies using performance-enhancing drugs.
Armstrong did not co-operate with the Usada investigation.
The 41-year-old American maintains his innocence but has lost sponsorship agreements with sportswear giant Nike, cycle maker Trek and Budweiser brewer Anheuser-Busch in recent days.