Lance Armstrong affair: Insiders and experts on drugs in cycling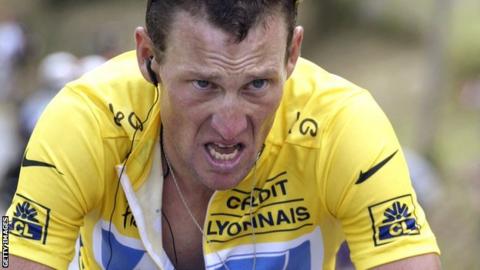 The world has been shocked by revelations about Lance Armstrong's doping.
The US Anti-Doping Agency (Usada) says the seven-time Tour de France winner led "the most sophisticated, professionalised and successful doping programme that sport has ever seen".
On Monday, BBC Radio 5 live broadcast a two-hour special on drug taking in professional cycling.
In "Peddlers - Cycling's Dirty Truth", numerous former racers, support staff, medical experts and anti-doping campaigners spoke freely about Armstrong and doping.
Tyler Hamilton, former Armstrong team-mate
"The first PED (performance-enhancing drug) I took was a small, red pill which was testosterone. I knew what it was. I was told I had to take it now, in a small window, and by the next race it would not be traceable.
"I felt different in the next race. I wasn't Superman, but I knew I had recovered thanks to the help of the team doctor.
"I knew others were taking this stuff, because white lunch bags were being passed around. Later I found out what was in those lunch bags: EPO [Erythropoietin]. I wasn't proud of my actions. I felt guilt.
"We used to called it Edgar Allan Poe, for EPO. Or Edgar. Or Poe. To be more secretive.
"I was super-paranoid about having it at my home in Spain. Whenever I had it I wanted to conceal it. I would cut up the cartons into tiny pieces and flush it down the toilet. I would hide the stuff in the back of my fridge, behind vegetables.
"We used to have a man on a motorbike stationed nearby - Motorman. He would have the dope. Lance paid him $20,000 (£12,450) per Tour to do it. Then, as Lance had won the Tour, we would all club together to buy him a Rolex watch. Somewhere he's walking around now wearing a big gold Rolex.
"If you took dope you could feel like your were bending steel. People say it made you feel no different, but that's a lie. It's like drinking a pot of coffee having never had coffee at all. It's like nitro-fuel."
Emma O'Reilly, Armstrong's ex-masseuse
"I first met Lance Armstrong in a car park. I went to him, and he had a good, firm handshake. I liked him.
"I blanked out my periphery for as long as I wanted. I would spy medical products among the breakfast stuff. I had an assumption but you just wouldn't ask. It was only a bike race, it wasn't life and death. And it was a fact of life, like putting your socks on in the morning.
"I once used concealer to cover up syringe marks on Lance before he had a photo call. The two of us had a laugh putting it on. It was just part of your everyday life, and it was funny.
"Lance is just too alpha male, that's his nemesis. It just had to be all about Lance. He has to be at the forefront of everything. He would say that it's all about him, because he was cycling. That was a mistake. It was about drugs in cycling, not just him.
"Afterwards, oh my, I've never felt more hunted in my whole life. There were lawsuits that affected not just me but other people, like my boyfriend. Lance was calling me a prostitute. The libel laws protected him, the rich, while I was dragged through the courts. He was protected from me saying what has now turned out to be the truth.
"I knew Lance was bullying me and all I was trying to do was clean up the sport."
Matt DeCanio, former Tour cyclist
"When I asked riders about their doping it was like a shock through the peloton. I wanted to ride on US Postal Service and I later found out they didn't want me because I was shooting my mouth. If you're outspoken they would not take you; they would take someone less good but quieter.
"I realised that I had to dope. That was the decision I did make, and that was the decision I shouldn't have made. I took testosterone and EPO, but I didn't win any races. I felt bad, I had a conscience. I literally could not look at myself in the mirror. I hated myself, I was disgusted."
Dr Michael Ashenden, cycling doping expert
"It's so easy for people to dope, unfortunately, in sport. The products are so available and so affordable. There's a massive incentive and a complicit media who have not done enough to expose it.
"Dopers know that we know that they know that we know what they are doing. We know! But our testing has reached its current limits. Unfortunately they know enough to get round us today."
Jeremy Whittle, Times Cycling correspondent
"I met Lance Armstrong in 1993 and we made a film with him in '99 in Nice. Then in 2001 these doubts were really gathering, and I just realised. It was his body language and I knew something was very wrong. I wrote a piece and was subsequently blacklisted.
"Lance played the role of the Godfather, definitely. He wanted to be the cycling don. But if you're in the room and someone's there he doesn't like he will just walk out of the room, leaving with some foul-mouthed quip. He was very charismatic, which is how he was able to persist with this fraud for so long."
David Millar, completed a two-year doping ban
"Cycling has moved on so far in the last five years, through the incredible hard work of a lot of people who want to change this. This is a scoop to the general public but we've known things for so long.
"We have to close this door on this horrific period for the sport. We have moved on. Things have got progressively better. We are at the vanguard of the anti-doping movement. Cycling has pushed through the most advanced anti-doping testing and we were the first sport to introduce blood tests. The problem was so vast, and we were all culpable on different levels."