Lance Armstrong titles 'should be void' says Tour de France director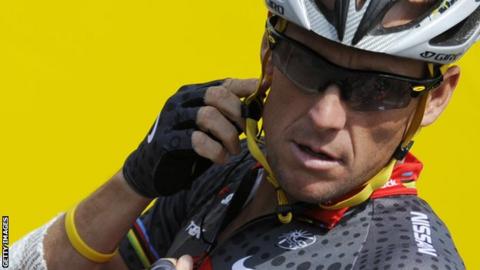 Tour de France director Christian Prudhomme says there should be "no winner" of the seven titles Lance Armstrong won if the decision to strip him of his victories is upheld.
Armstrong, 41, has been accused of being "a serial drugs cheat" by the US Anti-Doping Agency, who removed the titles he won between 1999 and 2005.
The International Cycling Union (UCI) can still appeal against the decision.
"What we want is that there is no winner," Prudhomme said.
"We cannot be indifferent to what Usada has unmasked this week, it's a damning picture that's been drawn."
In a statement responding to Usada's report into Armstrong, the UCI said they "will examine all information received in order to consider issues of appeal and recognition, jurisdiction and statute of limitation."
They are expected to give their response towards the end of October.
Should Armstrong's victories not be awarded to any other rider, it would mark a change in how Tour organisers have dealt with similar cases in the past.
In 2006, Oscar Pereiro was awarded victory after the doping disqualification of American rider Floyd Landis, while Luxembourg's Andy Schleck was given the race winner's yellow jersey when Alberto Contador was stripped of his 2010 Tour victory for a doping violation.
Usada's report states that the era in which Armstrong dominated was "the dirtiest ever" with "20 of the 21 podium finishers in the Tour de France from 1999 through 2005 directly tied to likely doping through admissions, sanctions, public investigations or exceeding the UCI hematocrit (a blood test to discover EPO use) threshold".
BBC Radio 5 live Sport will look at the Lance Armstrong saga in a special programme on Monday at 19:00 BST. "Peddlers: Cycling's Dirty Truth" includes interviews with Armstrong's former team-mate Tyler Hamilton, former Wada head Dick Pound, and British cyclist David Millar who was banned for two years after admitting taking performance-enhancing drugs.