Cycling: Ross Edgar considers switch from track to road racing
Last updated on .From the section Cycling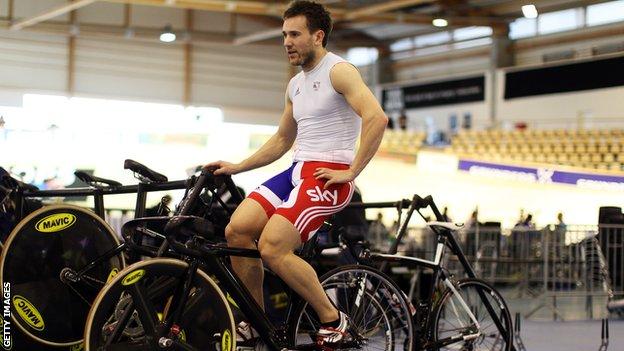 Cyclist Ross Edgar is considering a switch from the track to road racing after missing out on London 2012.
He was only team sprint reserve for London and was not needed as Hoy, Jason Kenny and Philip Hindes took the gold.
"I've been looking at changing disciplines. I haven't 100% made up my mind yet but I've been doing a lot of road riding," said Edgar.
"I've been doing five-hour rides on the road and getting the miles in since the Olympics.
"I had a go at a race - the Newport Nocturne - but had some bad luck with a broken spoke on the first lap," the Newmarket-based Scot told BBC Radio Cambridgeshire.
"The main reason for it is a new challenge, a change of scenery and being outside.
"Being in the velodrome, I've been doing that for 10 years and as good as it is, you can get stale from doing the same thing repetitively."
A rule change meant only Hoy was able to represent Britain in the keirin in London, leaving the team sprint - in which Edgar won a Commonwealth Games gold for Scotland in 2006 - as the latter's only opportunity to take part.
However, the arrival of Hindes, who raced for Germany as junior, meant he lost out on the 'man one' place.
Despite that, Edgar insisted he had no hard feelings and still enjoyed the Games in the role of spectator.
"I got into the spirit of it all - it was hard not to, really. I'd rather that than being all bitter and sitting at home, because you couldn't get away from it, it was everywhere," he said.
Team GB dominated proceedings in the Olympic velodrome, collecting seven golds, a silver and a bronze.
"It was fantastic how everyone did - I was happy for all of them," said Edgar, who sees no reason why Britain's success should not continue despite Victoria Pendleton retiring and Hoy indicating he will not be around for the Rio Olympics in 2016.
"There's a few stars that have left but Jason is still going to be there and there are quite a few riders coming through in the academy, so we'll just have to see who pops their head up," he added.