Mark Cavendish can leave Sky, says boss Dave Brailsford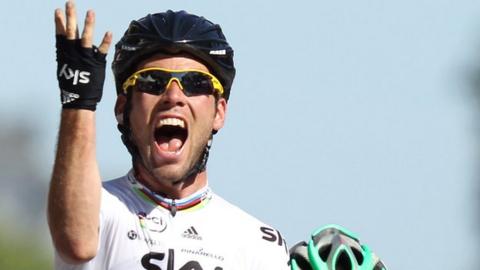 World champion Mark Cavendish will be allowed to leave Team Sky if he wants to go, says boss Dave Brailsford.
Cavendish, the world's best sprinter, signed a three-year deal in October.
But after their Tour de France success, Sky's focus is on further general classification glory rather than stage wins, which might not suit Cavendish.
"If he felt, or if it was felt, that he would like a dedicated team around him, then he is quite within his rights to want to do that," said Brailsford.
"This team will keep its GC [general classification] ambitions and I am sure that we will sit down and discuss that with Mark and see how he feels about that.
"He is a prolific British winner and we would love to have a prolific British winner on the team."
As a sprinter, Cavendish is helped by having a team working to set up finishes for him.
However, Sky want to win the Tour de France again and again after helping Bradley Wiggins become the first British winner of road cycling's most prestigious title.
That means that, just as in this year's Tour, they will often not be able to devote team resources to help lead out Cavendish.
Nicknamed the 'Manx Missile', Cavendish was the undisputed team leader at HTC and won 20 Tour de France stages prior to 2012.
With Sky, he added another three this year but was only given a full lead-out on the last two of those stages - 18 and 20 - as the team concentrated on securing overall victory for team leader Wiggins.
Brailsford insisted there would be no hard feelings if Cavendish, whose target now is Olympic gold in the road race, decided to leave Sky.
"We wouldn't fall out about it," said Brailsford. "There wouldn't be an issue about it, but we are very proud to have him on Team Sky. He is a fantastic champion and long may that continue.
"I can't see an issue at all. There's no problem and we will take the common-sense approach and sort it out like that."
Brailsford now wants Sky to become the sport's greatest ever team, dominating the Tour de France for years to come.
"If you're going to become the best cycling team the world's ever seen, you've got to win the biggest race in the world time and time again," he said.
"I am quite driven by that: to see what it takes to be the best professional team this sport has ever seen. The components of that would be success over time."